Top Ayurvedic Pharmacy Institutes in Dehradun
October 2023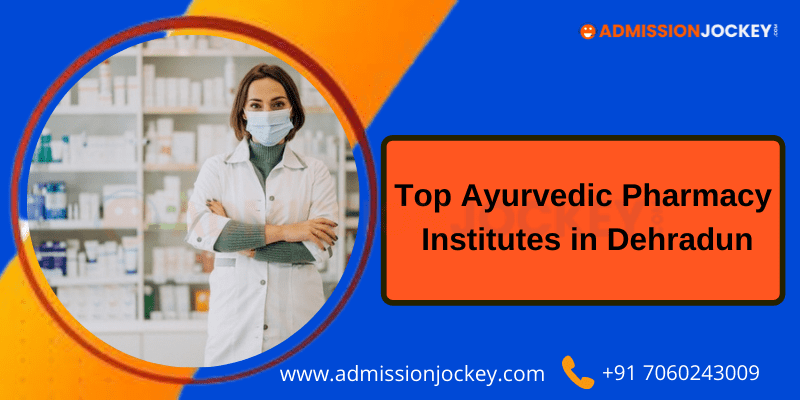 Best Ayurvedic Pharmacy college in Dehradun
Ayurveda courses are one of the most popular medical courses today in India. Ayurveda is a gift of India to the world. There is a diploma course in Ayurvedic Pharmacy which is most popular and it is a 2 year-long course. A diploma in Ayurvedic Pharmacy allows students to get a deeper and comprehensive understanding of the chemical composition of various ayurvedic medicine and their properties. This course allows students to focus on the ayurvedic pharmacy system. There are many great Ayurvedic pharmacy institutes in Dehradun and in this article, we are going to talk about it.
Dev Bhoomi Group of Institutions
DBIT offers a diploma in Ayurvedic Pharmacy. This diploma is a 2 year-long program and provides extensive knowledge of the ayurvedic system of pharmacy. It basically focuses on the manufacturing and distribution of Ayurvedic drugs which are used in the treatments of various ailments.
Institute has an on-campus hospital, which gives students a chance to experience the handling of patients and other pharmacy-related processes. They also have a library that contains numerous Ayurveda books. Also, top-notch infrastructure and hi-tech labs help students learn better. All these facilities make DBGI a remarkable institute of Ayurveda Pharmacy.
Uttaranchal Ayurvedic College
One of the biggest ayurvedic institutes in Dehradun, Uttaranchal Ayurvedic College offers a 2-year diploma certification course in Ayurvedic pharmacy. Their course offers an integrated study of Ayurveda with its implementation in pharmacy. This course covers some important topics such as Ayurvedic drug manufacturing, ayurvedic raw materials, drug standardization, quality check, etc.
It is one of the popular courses among students these days. They also offer all the facilities within campus only like a cafeteria, well-equipped library, and medical facilities. With affordable fees and record placement, they are one of the best ayurvedic colleges in Uttarakhand.
Himalayiya Ayurvedic Medical College
This institute is located in Harrawala Dehradun and is one of the top ayurvedic institutions in Dehradun. They offer many different courses but their Diploma in Pharmacy course is the most affordable. Institute is recognized by the Bhartiya Chikitsa Parishad. The curriculum promotes the use of indigenous medicines and Ayurveda in the ailments of sick people.
HAMC won't overwhelm you with the facilities. But they provide enough for the overall growth of the students. Their fees are affordable and are submitted on a yearly basis and their placement is quite brilliant. Graduates from this college are working as therapists, pharmacists, clinic managers, etc. There are numerous opportunities in this specific field.
Read: Best Pharmacy Colleges in Dehradun
Shivalik Institute of Ayurveda and Research
Shivalik Institute is a major educational institute in Dehradun. They offer a diploma in Ayurveda Pharmacy under their Ayurveda and Research wing. Their course is very comprehensive and provides all-around knowledge of Ayurveda. The importance of ayurvedic drugs and medication in pharmacy for the treatment of various diseases is also taught to the students.
They have a solid infrastructure and they empower students to research the ancient knowledge of Indian medications. Shivalik college also offers all the facilities like a huge college campus, hostel and canteen facilities, etc. Their fees is very affordable and the placement is genuine. Certainly one of the best ayurvedic pharmacy colleges in Dehradun. Check out Shivalik college's official website to know more about the admission process.
Beehive Ayurveda Medical College
Beehive Ayurveda college is one of the best in the city. They offer diploma courses in Ayurveda Pharmacy and offer a very comprehensive curriculum. It involves the training of ayurvedic drug manufacturing, drug standardization, etc. Institute has its own herbal garden which makes the campus super beautiful but also helps students with the study. The faculty here is very experienced and they nurture students to become proficient and advanced professionals.
The architecture and infrastructure of this institute are one of a kind. They also offer all the facilities within campus only. But what makes Beehive one of the best ayurvedic pharmacy institutes in Dehradun are 2 factors. Their most affordable fees and the internship exposure/placement guarantee.
Leave a Comment