Top Pharmacy Colleges in Dehradun
December 2023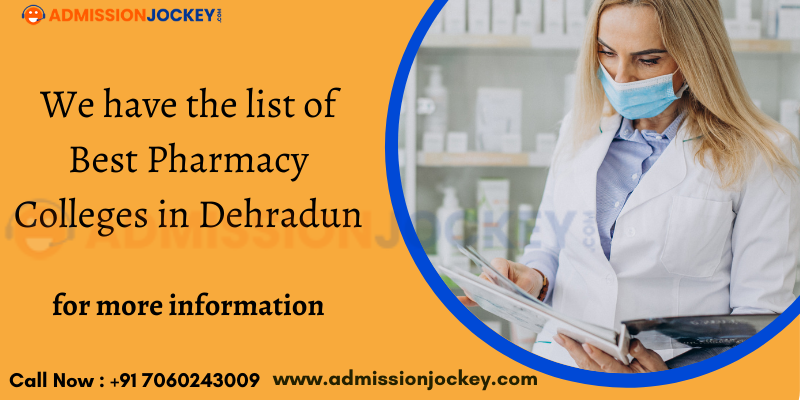 Top Pharmacy Colleges in Dehradun
Dehradun is famous for its sheer beauty and education. There are as many colleges in Dehradun as there are picnic spots if not more, and some of them are the best in their category throughout the country. In the last two decades, medical colleges in Dehradun have gained massive interest and popularity amongst the students of India especially paramedical courses like pharmacy have grabbed the keen interest of the students as it promises to hone their skills so they can have a bright future in the respective field. In this article, you will see the best pharmacy colleges in Dehradun and how you can be a part of them.
Dev Bhoomi Institute of Pharmacy and Research
Dev Bhoomi Institute of Pharmacy and Research runs under the Dev Bhoomi Group of Institutions. It is one of the best Pharmacy colleges in Dehradun and is very popular amongst students from outside of the state. This institute is affiliated with UTU and UBTER and offers three courses – Diploma in Pharmacy (D.Pharm), Bachelor of Pharmacy (B Pharm), and Master of Pharmacy (M Pharm) which are approved by AICTE and PCI. This institute is located in the outskirts of the city and is enveloped in lush green surroundings. The faculty is very prominent and they use the latest enhancements in the field of pharmacy to expand the knowledge base of the students. This institute is highly recommended for students thinking of pursuing pharmacy.
DIT Faculty of Pharmacy
DIT is one of the best institutions in Dehradun. They offer courses in many different programs and niches. The DIT Faculty of Pharmacy was established in 2005 with a motive to introduce students to superior and advanced pharmaceutical education. It is affiliated with the Uttarakhand Technical University and is approved by AICTE and PCI and provides all the pharmacy courses. Their facility is very overwhelming and their courses are very comprehensive making students ready for every challenge they might face ahead. From great infrastructure to Cafeteria, wi-fi enabled campus, on-campus ATM, and library all the facilities are provided to students.
Gyani Inder Singh Institute of Professional Studies
This institute was also established in 2005 and is one of the top-notch pharmaceutical colleges in Dehradun. This institute works under private ownership and is approved by both governing bodies AICTE and PCI and is affiliated with UTU. Their dedicated faculty team is known to bring the best out of students. They offer all the pharmaceutical courses that the students want to pursue and also provide accommodations to the students coming from outside. They hone the technical and relational skills of their students so they have a greater chance to be successful anywhere they go. The fee structure is also very genuine and affordable. This college is highly recommended to the students because it is amongst the best in Dehradun.
Read More Best Paramedical Courses with High Salary
Shri Guru Ram Rai Academy of Pharmaceutical Sciences
Shri Guru Ram Rai Academy of Pharmaceutical Sciences is one of the oldest pharmacy institutes in North India. It was established in the year 1994 with an aim to bring the immense knowledge of paramedical science to curious students. This college is affiliated with the Hemwati Nandan Bahuguna University in Srinagar, Uttarakhand, and is approved by AICTE and PCI. The students who graduated from this institute have clinical and interactive skills which play a major role in this pharmaceutical profession. Their campus encloses all the accommodations that a student could ask for and they provide scholarships to brilliant students. They provide 100% placement to their students according to their merit and companies like Cadila, Ranbaxy, IPCA, AstraZeneca, and many others come and choose perfect candidates for them. This is one of the top medical colleges in Dehradun.
GRD (PG) IMT Pharmacy
GRD Group of Institution has earned a name for themselves as one of the frontline educators in Dehradun. Their GRD IMT Pharmacy college provides students with the vast and deep pharmaceutical knowledge they seek for. This institute was established in 2004 and since it has maintained its place as one of the best pharmacy colleges in Dehradun by the hard work and sheer commitment of the faculty and administration of this institution. For students with a will to learn something new in the pharmacy field, this institute is the perfect choice as they not only hone the interpersonal skills of the students but also equip them with all other necessary skillsets which they will require to get their desired jobs. Along with the academics they also provide students with all the other accommodations they need. The placement record is also quite good as big and reputed companies like Ranbaxy, Cipla, Glenmark, Surya Pharmaceuticals and many others approach to pick their best picks.
Leave a Comment