Best MHA and BHA Colleges in India
December 2023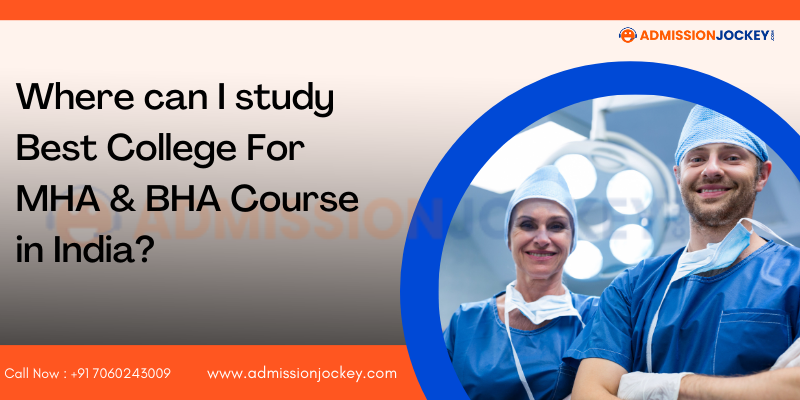 Best MHA and BHA Colleges in India
BHA and MHA are two of the most looked upon courses in health management in India. The courses are curated for students who are seeking a career in the understanding of healthcare systems, management, leadership in hospital administration, and building an alliance of hospitals. The Healthcare sector is changing and evolving at a very fast pace and these courses create professionals who can respond wisely and immediately. There are many good institutes offering Bachelor's and Master's in health administration in India, and in this article, we are going to talk about some of the best MHA and BHA colleges in India.
Amity University is most certainly one of the biggest and foremost privately run educational institutions in India. They have a vivid range of courses. From Engineering to management and hospitality, there is everything in their criteria. They offer BHA and MHA courses both. Their Master in Health Administration is a choice for the graduates who are looking to be a part of a dynamic and innovative healthcare industry which includes planning, staffing, coordinating to provide utmost service to the patients. Amity offers maximum placement guarantee to bright students. This postgraduate program is available to students of all disciplines including paramedics, doctors, and nurses. You may check their official website to learn more about the admission procedure in one of the best MHA colleges in India.
Manipal Academy of Higher Education
Manipal is a leading university in India and is famous not only in India but all around the world. Their Masters in Health Administration come under the department of health and vows to transform basic health professionals into ethical, knowledgeable, and innovative health administrators who can contribute effectively to the progress of the healthcare sector for the betterment of society. Top-notch college faculty always focusing on improving the practical and tactical skills of the students and creating professionals out of the rookies. The job placement is on par with the best in the business. Their program also provides you the practical exposure to real hospital facilities and also supports the research and analysis linked directly to the very discipline of the students.
Read More Top Paramedical Colleges in Bangalore
TATA Institute of Social Sciences, MUMBAI
TATA is not only a pioneer in the automobile sector but they also have a reputation as leading educators in India and they are giving us some of the best professional health managers for the rapidly changing and growing hospital sector. Their MHA course brings out the leadership qualities of the students and promotes them to train in planning and project management of hospitals. The program also trains the students in financial, material, and manpower management. The students passed out from TISS can easily find jobs in both the private and government sectors. Their placement cell prefers that no talent goes unnoticed and their on-campus accommodations and facilities make sure that students get every tool necessary to get the best out of them. TISS is arguably one of the best BHA and MHA colleges in India.
Kalinga Institute of Industrial Technology (KIIT), Bhubneshwar
KIIT has improved a lot in the past years and is still improving. They offer both undergraduate and postgraduate courses in Health Administration. The Healthcare sector is roughly growing by 13% every year and thus there is an increased demand for professional health managers for system administration of the advanced hospitals set up across the country by the big names in the business. The MHA program combines practical training in management skills, principles, accounting, and business administration. The students would also learn how a hospital works, marketing, and logistic statistics. The program ensures to train students to become professional and responsible managers who can reliable to the hospital and carry out all their duties perfectly. KIIT also makes sure that if you are a bright student, you get placed into an appropriate job profile.
Indian Institute of Health Management and Research, IIHMR
IIHMR has been promoting health and goodwill through its programs and has been a significant name in healthcare educators. They also offer a Master's course in Health administration. The wide objective of their program is to assemble knowledge and skills together in order to ensure smooth performance as expert healthcare professionals in hospital administration in both private and government sectors. Their syllabus is designed keeping in mind the current requirements in the industry and improves the critical thinking skills of the students as well as influences them to participate in the formation of public health policies. To face all the challenges thrown in front of them in the healthcare sector students are prepared with the enhanced decision-making and administrative skills. They ensure that only the best of the companies may sit during the campus placement promising students an opportunity of a bright future. IIHMR is certainly one of the best MHA colleges in our country.
Leave a Comment