Top Paramedical Colleges in Bangalore
December 2023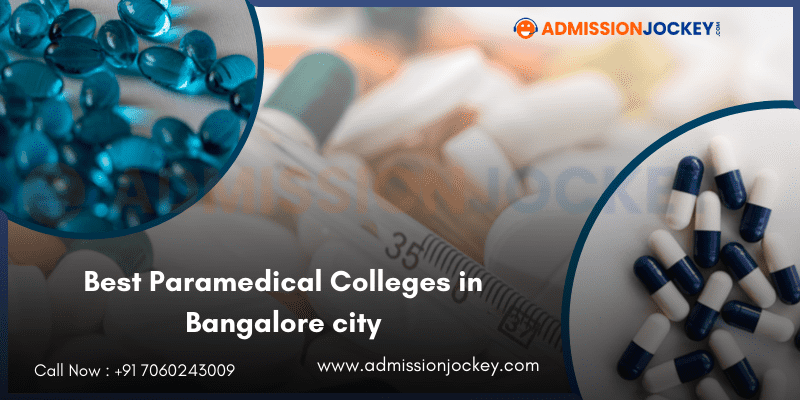 Top Paramedical Colleges in Bangalore
Bangalore is a beautiful city which is known for its high tech IT city and moderate climate all year around. Thousands and thousands of young graduates arrive in Bangalore every year to get the jobs of their dreams. Apart from the job sector, Bangalore is also famous for its education especially education in medical health and hospitality. A paramedical course in specific is a field that educates students with the art of therapies to help out with body ailments. There are many renowned medical colleges in Bangalore and the admission there is solely based on the merit and scores obtained in examinations like NEET, AIIMS PG, SAAT, and NEET PG. In this article, we are going to take a detailed look at the best 5 paramedical colleges in Bangalore.
Goutham College of Science, Bangalore
Goutham College in Bangalore was established in the year 1986 and since then it has created a solid reputation in Karnataka. This institute is known for having highly qualified professionals who are proficient in providing the skills along with the necessary knowledge needed to meet today's challenges. This college provides outstanding facilities and accommodations to students so that they can achieve excellence in their academics. The campus is located at the heart of the city and its infrastructure is top class. They provide scholarships to bright students and the On-campus placement is also amongst the best with companies like ABP, YAHOO LABS, DLF, BlueStar, and many others recruiting students every year.
St George College of Management Science and Nursing, (SGCMSN), Bangalore
St George institute was established back in 1998 and now is a well-known institution. It is located in the "Silicon Valley" of India, Bangalore. Although the paramedical courses were added a couple of years after the inauguration. They offer diploma courses in the paramedical stream and are known for producing quality workforce and top-class managers. They have an awesome infrastructure, world-class labs, libraries and all the accommodations within the campus. The fees is pretty reasonable too and their placement cell provides full assistance with bringing in the number of companies hiring their best picks. St. George is one of the best paramedical institutes in Bangalore and you can check their admission process from their website.
Bangalore Medical College and Research Institute, Bangalore
This institute is one of the top medical colleges in Bangalore and was started in the year 1955. Currently, it is affiliated to the Rajiv Gandhi University of Health Sciences and is recognized by the Medical Council of India. Although it is a great institute, the selection process is completely merit-based. They offer Bachelor's degree in paramedical sciences and all candidates have to apply online for application. They have one of the best infrastructures in all of the colleges in Bangalore. Apart from that, world-class hi-tech labs to help students with the research activities, hostel facilities and all other accommodations. Students from here are placed in the top medical facilities in our country and some even abroad.
Dr. BR Ambedkar Medical College, Bangalore
Dr BR Ambedkar medical college was started back in 1981 and is affiliated to the Rajiv Gandhi University of Health Sciences and is recognized by the Medical Council of India. They offer undergrad and post-grad courses both in the paramedical department. The architecture and infrastructure of the college is superior and it attracts many students just by the look of it. The college faculty in addition are very talented and educated and have in-depth knowledge of the paramedical stream. They provide various facilities to the students. They have libraries in 2 different blocks with more books you can count and on-campus fast internet facilities too for the described research. They also conduct many extracurricular activities for the overall personality development of the students. Their fees is low and affordable and the placement cell does a remarkable job in bringing the best companies for hiring students.
St John Medical College, Bangalore
St John Medical College is one of the most technologically advanced institutions in Bangalore. It was established in 1963 by the Catholic Bishops' conference of India. Since then it has been blessed with world-class faculty, going all the way to support students and making the best medical professionals out of them. They offer courses in all medical streams but in paramedical sciences, they offer undergraduate and postgraduate courses both. Their world-class campus supports modern teaching methods. It is located in the Garden City in Bangalore and its campus is spread in a sprawling 132 acres. They have some of the best infrastructure and most facilities and accommodations provided by any institution in Bangalore. Their admission criteria are merit-based. Your last education credibility will be checked before giving you admission. They have collaboration with some of the best medical facilities in India and their graduated students are placed in some of the best hospitals and medical institutions in India. St. John Medical College is one of the best colleges to pursue paramedical courses in Bangalore.
Leave a Comment