Best Paramedical Courses with High Salary
October 2023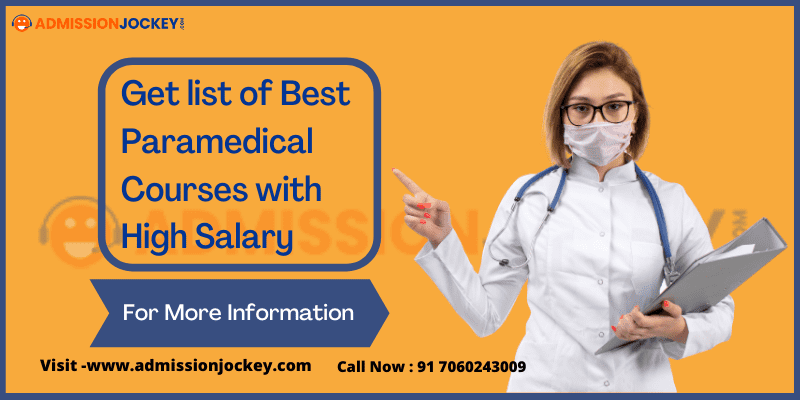 Best Paramedical Courses with High Salary
As medical health education took a major turn in India, we saw a sudden rise in the medical institutions, various medical and paramedical courses, and medical graduates. Getting a job is still a dream for many students in the country. The medical profession is all about patience, hard work, skills, and preserving. Paramedical is a major field in the health sector and due to the shortage of paramedics in India, there is a marginal rise in the demand for paramedics professionals. There are many areas, profiles, and jobs that really pay well to paramedical professionals. In this article, we are going to look at the courses to pursue to get the highest salary in the paramedical sector.
X-Ray Technology
X-Ray technology courses are amongst the most popular courses and also the highest paying ones too. It is of great importance in medical treatment and is most looked out for. Students are educated with the technology used in X-Ray, Medical imaging technology, and how to read an x-ray. There are many courses in this particular niche.
Bachelor's in X-ray technology
Bachelor's in Medical Imaging technology
Bachelor's of radiation Technology
Diploma in X-ray technology
Certificate in X-ray technician
X-Ray technology is not only important in medical health treatment but also pays really well. A Bachelor's degree holder X-ray technician can earn up to INR 6 lakhs per annum and a basic diploma or certificate holder can earn upto INR 30,000. The salary package could go up and down, this is just the average. In USA and other foreign countries, there could be a significant increase in the salary.
Read More Best Medical Colleges in India
Anesthesia Technology
Anesthesia Technology is a course where students are trained about how to regulate various concentrations of anesthesia doses in different medical technicalities. Anesthesia is the first step before proceeding with most of the medical treatments and it holds a greater significance than probably anything else. There are different types of anesthetic treatments given to the patients according to their reaction to it. There are many courses in Anesthesia like
Diploma in Anesthesia
Bachelor's in Anesthesia technology
Post Graduate Diploma in Anesthesia
The starting salary alone for freshers is around INR 1 lakh. There are many anesthetic specialists like Cardiac Anesthetic and they are paid much more than that. Given time and experience, the salaries could easily go up to 12 to 15 lakhs. In countries like the USA and Europe, the salary could be up to 3-4 times more than what they get paid in India.
Physiotherapy technology
In today's life, physiotherapy is one of the most important sectors as it deals with the human limbs and the correction in their movement. Patients with different problems get treated with different therapies like limb exercises, electrotherapy, etc. After major surgeries especially of joints, physiotherapy is mainly used in bringing back the natural movement of the body parts. Physiotherapy has 24*7 importance in sports and is a great career opportunity. There are 2 major courses in physiotherapy.
Bachelor of Physiotherapy
Diploma in Physiotherapy
There is not a fixed salary in this field but it is sure as hell pays a lot. The basic salary in physiotherapy can go up to INR 15000 up to INR 70000 /month. A personal physiotherapist or the one engaged with sports athletes can earn up to INR 50,000 to INR 1,00,000.
Nursing
Nursing is the most important paramedical course perhaps. After doctors, nurses have the most responsibility and even probably more than the doctors. They are given the responsibility of taking care of the patients when they are admitted and even after their surgeries, assisting doctors during the surgeries and maintaining the records of patients in wards, deliver medicine, first aid, dressings, and immediate treatment in case of emergency. Nursing is the most popular paramedic course and there are many nursing courses available.
Bachelor's in Nursing
Diploma in Nursing Care Assistant
Masters in Community Health Nursing
Masters in Obstetrics & Gynecology Nursing
Masters in Psychiatric Nursing
Masters in Health Nursing
Masters in Pediatric Nursing
There are many departments in Nursing like the government sector, private sector, and education qualification and experience also counts when it comes to salary. Although, Lbthey are amongst the highest paying paramedical jobs in India. The fresher's salary alone could go up to INR 1.8 Lakhs/annum to 9 Lakhs/annum. The salary in foreign countries could be multiple times.
Medical Lab Technologists
Medical lab technology is a very important subject considering the important role laboratories play in medical treatment. The disease is diagnosed by collecting and testing blood samples in labs which require skilled technicians who are efficient in collecting, testing, and analyzing blood samples. There is a lot of opportunity in this field. You can easily get a job as a technician in any lab or can also start your own laboratory.
Bachelor's in Medical lab Technology
Certificate as a Lab Assistant
Diploma in Lab Assistance
The salary for a lab technician can range up from INR 1.25 LPA to INR 6 LPA. And if you have your own laboratory then earning chances are much more according to your calibre. Foreign countries like the USA pay much more money to lab technicians than in India.
Leave a Comment