Top Sociology Colleges in Dehradun
December 2023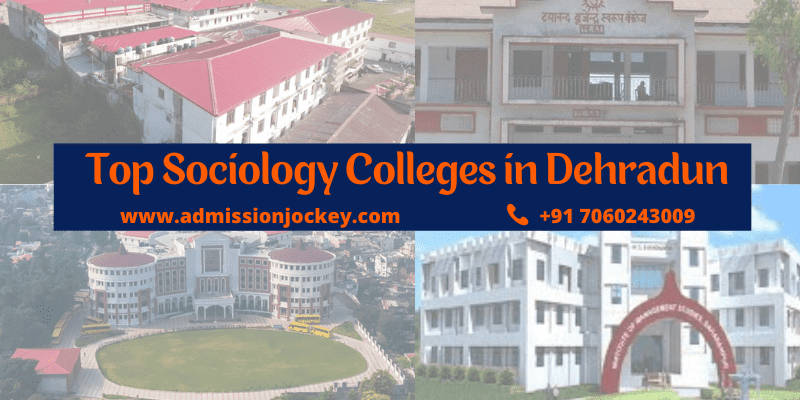 What is Sociology?
It is basically the study of social relationships of humans, social interactions, and cultural interactions that impact everyday life. Simply put, sociology is the general science of society. It covers various different aspects of human society like the economy, education, social capital, medicine, and much more. Basically, it means analyzing social life structure and gathering data on how it has changed with time. It is quickly becoming popular among the students of arts and there are many colleges offering sociology courses. In this very article, we are going to talk about a few of the top sociology colleges in Dehradun.
Top Sociology Colleges in Dehradun Highlight
There are many colleges in Dehradun offering Bachelor's and Master's courses in Sociology but BFIT institute is considered the best one. Their Bachelor of Art in Sociology is an undergraduate program and it focuses on the state of society and different types of interactions that occur within it, the effect of different societies, worldwide issues, and much more.
BFIT is affiliated with HNB Garhwal University and is considered the best college for BA Hons Sociology in Dehradun because of their state-of-the-art infrastructure and their very talented and motivating faculty which train students to understand the human behavior in today's life, how we behave individually and in a group and what it means to be a human today. Because there are numerous opportunities waiting for you to grab in this field, it is very sought-after. Check out BFIT official website to learn more.
D.B.S (PG) College, Dehradun
D.B.S College is one of the oldest colleges in Dehradun and one of the most popular ones too. It is so immensely popular because it is practically inexpensive. They offer Bachelor's and Master's courses in the Sociology discipline. They teach students about individuals and their gatherings and social orders. Make them aware of different types of experiences a human could get in a lifetime and what can social institutions do to a human's identity and perspective.
It is a very lucrative career and the best part is there are several additional alternatives to it. Although, DBS doesn't promise any luxuries and accommodations they offer what is most important – good education on a minimum budget. In short, D.B.S is one of the best BA Hons Sociology colleges in Dehradun.
Check this out: Top Bank Coaching Centres in Dehradun, India
Graphic Era offers a Bachelor of Arts (BA) in Sociology (Honors) and it is a full-time undergraduate degree program. GEU is the most sought-after institution in Uttarakhand and their sociology course is a handful. Sociology is a subject that has been going on for centuries and the study of human social behavior is amongst the most diverse and clarifying fields of Social Sciences.
The highly talented faculty of GEU trains students with the study of societies, communities, and their relationships and struggles between different cultures. They have hi-tech labs and a fully equipped library with thousands of books and world-class infrastructure. Their fee structure could be a bit higher but it is worth it keeping in mind the accommodations you get in return. GEU is one of the best Sociology colleges in Uttarakhand and highly recommendable.
Institute of Management Studies
IMS is widely popular for its management and administration courses and offers a 3-year undergraduate course in Sociology. It deals with all various aspects of society including the psychological behavior of men and women and the difference between the different cultures of society. Their course teaches students about society, culture, and their co-relation in various social levels systematically.
They have a very talented and friendly faculty and an all-inclusive campus to support students with their studies and bring out the best in them. They also offer internships and placement guarantees to students and that's why IMS is one of the most preferred choices of the students not only in Dehradun but in most of North India. Their promise of brilliance in education makes them one of the best BA Hons in Sociology institute in Uttarakhand.
UIHMT
UIHMT is not only famous for its Hotel Management courses but also for its reliable Sociology course. They offer Bachelor's and Master's courses both in Sociology and they motivate students to pursue this course because it is a very natural and lively one. The relationship between different cultures irrespective of the barriers created by the society is the highlight of their course.
The study of human behavior in both men and women is also a part of sociology. In other words, sociology is one of the most diverse fields of social sciences. They have great infrastructure and provide many facilities within campus only. There are endless opportunities in this field and students can choose alternate options. If you have freshly graduated 12th and looking for a sociology college then UIHMT is highly recommended.
Leave a Comment