Top Interior Designing Colleges in Dehradun
December 2023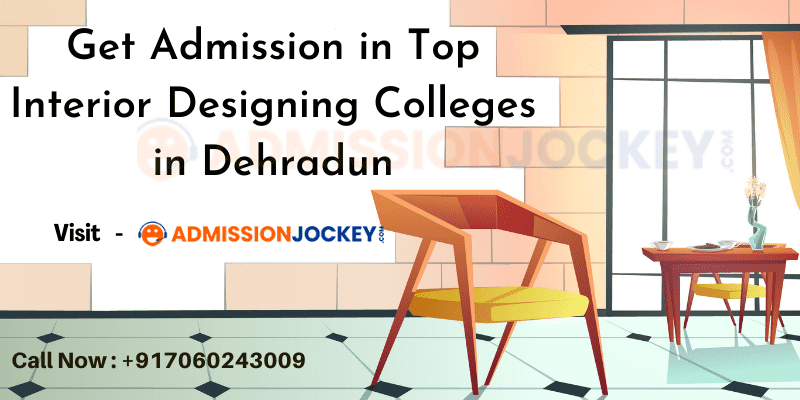 Top Interior Designing Colleges
Interior Designing is quickly becoming one of the most popular career choices among students after 12th in India. The enthusiasm for this profession has gained a lot of momentum after many of the celebrities have started their own brands in this field. Interior designers make the best use of the area available in any house, office, workshop, or other commercial space with the objective of making the establishment look most attractive and offer space too. Students pursuing Interior design courses can become interior designers or interior decorators. In this article, we are going to talk about some of the Top Interior Designing Colleges in Dehradun.
DIT University is one of the best educational institutes in Dehradun and they offer designing courses in various streams including graphics, UI/UX, web, animation, and much more. They also offer an undergraduate course in Interior designing. This program influence and prepare students to work in a multi-disciplinary environment and use their ability to the maximum to bring out creative and cost-efficient, well managed interior designing ideas. They teach students to implement a human-centered approach and can work with any space like a house, offices, and any other commercial space. DIT offers world-class infrastructure and faculty to influence students to become their best versions and they also provide all the facilities so that students can innovate with free minds.
School of Art and Fashion Technology
The continuous demand for efficient and workable office spaces and houses leads to a rise in the demand for efficient and skilled interior designers who can create unparalleled aesthetic and comfortable interior spaces. SAFT is one of the best interior design colleges in Dehradun and offers top-notch education ultimately creating skilled designers and interior decorators. They offer a one-year undergraduate diploma in interior designing and prepares students with a parallel approach of how to decorate a room or a space with the combination of creativity and artistic approach. The use of fashion and artistic accessories in the decoration of the room decides the ultimate look it gonna get. That's why it is very important to learn all about aesthetics. SAFT provides all the campus facilities students would require for the growth of their ultimate mindset.
Dev Bhoomi School of Architecture and Design
Dev Bhoomi school of architecture and Design is a wider part of the Dev Bhoomi Group of Institutions and they offer one of the best interior designing courses in Dehradun. Their Bachelor in Designing program is specially curated to meet the needs of designing aspirants. They offer various niches within this program but their interior designing program is amongst the best. It is recognized as one of the most comprehensive programs in design and offers overall development. Their highly efficient faculty prepare students for everything including design, landscape, architecture, housing projects, etc. In this institute, the academics meet the practical stuff. Their infrastructure is top-notch and they host all the facilities for students within the campus. Dev Bhoomi should be on your list if you are looking to pursue an interior designing course in Dehradun.
Himgiri Zee is one of Top Interior Designing Colleges in Dehradun and their interior designing course is the best in the city. They offer Bachelor's course in Interior Designing which is an undergraduate program. The faculty is everything to an institute and HZU has some of the best and most efficient mentors teaching students how to turn an interior space into a highly effective one according to the use of the users. From visualizing to display interior design and decor plans, their course provides extensive designing knowledge from a basic level to an advanced level. They have a very hi-tech campus that provides all the accommodations to the students.
They have internship plans with the top interior designing firms in our country and thus securing the future of capable candidates. HZU is offering the top designing courses in Dehradun and is recommended if you are looking for an awesome all-inclusive institute to pursue further studies from.
School of Design, UPES
The University of Petroleum is one of the most authentic and sought-after universities in Uttarakhand. Their school of design offers various designing courses, they also offer a Bachelor's degree in interior designing. They have high-end computer workstations, hi-tech machines, and accessories and top of that 100% placement record. Their interior designing course will turn you into a skilled and highly proficient interior designer with the capability of turning any surface into a well-equipped and lively workstation. Their world-class college campus is one of a kind and is equipped with everything required for innovation and productivity. Although their eligibility criteria for admission require candidates to qualify for exams such as JEE Main/UPES DAT and their fees is a bit high but they compensate for it with their world-class education and a promising career in their respective fields.
Leave a Comment