Top 10 MBA courses in India
October 2023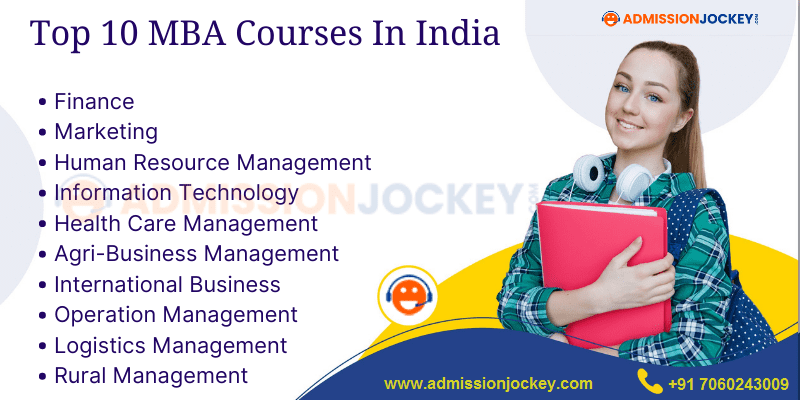 Masters in Business Administration Courses
Masters in Business Administration, popularly known as MBA is a 2-year postgraduate course. It gives you expertise in your selected niche of business studies and various other aspects of business administration. During the initial year, students get to learn a lot about management and they get to choose their specialized niche, in which they want to become an expert.
If you are an MBA aspirant, it gets confusing to choose the right subject of specialization for you because there are too many options. And because there is endless scope in almost every field, it becomes even tougher to come to a decision. You do not want to mess it up. That's why we have compiled a list of the top 10 MBA courses in India offered by the best management colleges in our country.
Top 10 MBA courses in India
Down below is the list of the top 10 MBA courses in India.
MBA in Finance
MBA in Marketing
MBA in Human Resource Management
MBA in Information Technology
MBA in International Business
MBA in Operation Management
MBA in Logistics Management
MBA in Rural Management
MBA in Health Care Management
MBA in Agri-Business Management
Which MBA Course is the toughest?
Accounting and Economics
If you are pursuing MBA, you must know and that it requires a lot of accounting and analytic assumptions. You must be aware that Mathematics is going to be the key and there is going to be the involvement of large numbers of statistics. Any administrative position in a business of any size depends heavily on the newest concepts in accounting. If anyone wants to explore their potential of advancing in their respective careers they need to use their knowledge of economic concepts within their organization. Thus, some advanced courses are needed to be undertaken within MBA like managerial economics, etc. Not only they are extremely in demand, but they are also super effective too.
What will MBA do for me?
One thing that is absolutely sure is having an MBA degree will only double your chances of job opportunities. It enhances your database of knowledge of various business areas. It enhances your capabilities to work on a business, making you the top names big businesses are looking out for to work in their superior positions. In short, if you are doing it with a vision in mind, it can make a fortune for you.
How fast can I get an MBA?
The average time that it takes to complete your MBA course is around 2 years which varies from college to college. But there is a part-time module of MBA available for students who are working and doesn't want to put their jobs on hold and still want to earn a degree. Students don't have to compromise with their classes and they can take classes at night or during weekends.
It is the most accelerated version of the MBA and can be completed within the duration of 12 months. Although, completing a degree course in one year is not at all an easy task.
Read more about Top colleges for MBA in India
What are the best courses in MBA?
Check out the top 10 best MBA courses
MBA in Finance
MBA in Finance is the most popular and the most chosen specialization as it promises unparalleled growth in the field of administration. It basically deals with the extensive planning and controlling of the finances of any organization. It teaches you many things. From business communication to organizational behavior, human resource management, corporate finance, and much more. This will make you an expert in Finance and you can work in any finance department.
The banking sector in India is growing rapidly. It needs skilled financial managers who can with complex economics in the fast-changing environment. Apart from banking, there are many other high-paying financial sectors that hire financial experts like stock exchange, mutual funds, insurance, financial advisors, and many more.
Annual Salary Package after doing MBA in Finance can be anywhere around INR 2,50,000 to INR 15,00,000 per annum and the Top Recruiters in MBA Finance are JP Morgan, Morgan Stanley, Goldman Sachs, Merrill Lynch, etc.
Skills required for MBA in Finance
You need to have a certain set of skills if you want to be an expert financer.
Mathematical Skills
Managerial Skills
Supervising Skills
Mathematics
Good Communication skills
Strategic Thinking
Creative approach
Leadership skills
MBA in Marketing
MBA in marketing is one of the most popular and competitive sectors out there. It equips students with an understanding of consumer behavior, service marketing, various aspects of advertising, and many other skills. Basically, it is about converting consumer demands to multiple products or services which are ultimately going to benefit the company.
This course will give you many business planning skills and you would be able to identify the pros and cons of a company and work plan accordingly to grab the lucrative opportunities and save the business from potential threats caused by market fluctuation. An MBA in marketing will give you many lucrative career opportunities. You can work as a corporate sales manager, media planning, digital marketing, and in many other niches.
Average Salary after MBA in Marketing could be anywhere around INR 5 Lakhs to INR 20 Lakhs per annum, depending on the company and the post you are working on.
Top Recruiters for MBA in Marketing are the MNCs like Sony, Ranbaxy, TCS, KPMG, Spencer's Retail, etc.
Skills required for MBA in Marketing
Consumer Behavior
Strategic Skills
Interpersonal Skills
Leadership Skills
Communication Skills
Entrepreneurial Skills
Resource Mobilization Skills
Creative Approach
MBA in Human Resource Management
Human Resource Managers are an integral part of any successful company. It basically deals with the human resource strategies and functions. It provides you with the concepts and skills to manage the human resources of a company which leads them to a way of success. HR demands a great personality, even greater communication skills, and confidence, if you have all those qualities, then HR Management is the correct choice for you.
The basic functions of HR include workforce diversity management, recruiting, training, increment, employee policy, and team building, etc. You have to be very patient and organized and able to handle tough situations. This is a very dynamic sector and makes you work with the most valuable asset of a company which is 'Employees'.
Annual Salary after doing MBA in Human Resource Management is around INR 5,00,000 to INR 16,00,000 p.a.
Top Recruiters for MBA in HR Management are companies like Randstad, Mercer India, ABC Consultants, Career expert, etc.
Skills required for MBA in HR Management
Communication Skills
Leadership Skills
Strategic Development
Sensitivity towards others
Adapt, Overcome, Improvise kind of mentality
Human Capital Development skills
Calculative Skills
Interpersonal skills
MBA in Information Technology
Information technology is probably the most important part of any organization because it is revolutionary and futuristic. This program is created to develop managers who are proficient in planning, design, implementation, administrating the existing and emerging information technologies. The main role of IT managers is to design the hardware, software, network, data solutions and put them to use to solve business queries. You need to have a graduate degree in any stream to pursue MBA in IT.
You will study many subjects and learn various things such as Database Management, IT Strategic Planning and Infrastructure, computer security, E-business and much more. IT holds great significance in India as we are a service sector economy and IT is an integral part of it.
The Average Salary for MBA in IT is around INR 5,00,000 to INR 20,00,000. It could go much higher in certain cases.
Top Recruiters for MBA IT graduates are Google, Facebook, Adobe, Yahoo, Apple, Microsoft, etc.
Skillset required for MBA in IT
Deep understanding of IT concepts
Analytical Skills
Managerial Skills
Problem-solving approach
Strategic Thinking
Worldwide orientation
Adaptability to Change
Communication Skills
MBA in International Business
The market is not limited to a specific country and more and more businesses are expanding their territories to the international market. That's why MBA in International business is such a big thing right now. It provides extensive knowledge of organizational strategies required for operating worldwide. With the main focus on high-demand subjects such as Internet marketing, international finances, and many more. It is one of the most sought-after courses because it teaches you multinational dealings which is a very rewarding niche.
It is rewarding in many ways. You will get to travel worldwide and learn the business concepts of various cultures. If you wish to work with the best businessmen in the world and become one of the best executives globally, then MBA in International Business would be your best choice.
The annual Salary for doing MBA in International Business is around INR 8,00,000 to INR 22,00,000 per annum. It can go much higher depending on your caliber and abilities.
Top recruiters for MBA in International Business are Accenture, Johnson & Johnson, Morgan Stanley, Microsoft, etc.
Skills Required for MBA in International Business
Communication in English
Interpersonal Influence
Collaboration
Adaptability
Resilience
Influence
Emotional Intelligence
MBA in Operation Management
MBA in Operation Management will prepare you for dealing with production management-related activities. It will make you a specialist in improving the manufacturing, productivity, time, quality, and cost to provide the utmost quality of products/services to the consumers. You will also have to improvise and learn how to improve the ongoing process management and to partner up with new vendors and create relationships within the department.
You will learn the process of how a product is successfully manufactured and distributed to the end customers. You will learn subjects such as international logistics, supply chain management, operations research, marketing management, etc. After graduating, you can make a career in manufacturing, retail, hospitality, management consulting, etc. It will help you earn a very good salary.
The annual Salary for MBA in Operation management is around INR 7,20,000 to INR 18,00,000
Top recruiters for MBA in Operation Management are Airtel, Ernst & Young, JP Morgan Chase, Accenture, Paytm, etc.
Skills Required for MBA in Operation Management
Good Communication Skills
Supervising Skills
Managerial Skills
Calculation Skills
Leadership Skills
MBA in Logistics Management
MBA in shipping and logistics gives you in-depth knowledge of the Logistics industry and the techniques to efficiently manage the various departments that come within. It deals with the management and the best use of product services between the time of their origin and consumption. There are many roles that come within logistics management like the supply of goods, product supervision, client-relation management, the number of sales, etc.
You will study subjects like Economics, organizational behavior, supply chain simulation, marketing management, etc. This course has many job scopes such as corporate companies, hospitality, airports, transport, etc. Every company needs new professionals who are effective in logistics/supply chain management and are willing to pay them very handsomely.
The average salary for MBA in Logistics Management is around INR 2 LPA to INR 18 LPA.
Skills required for MBA in Logistics Management
Decision-making
Multitasking
Responsible
Leadership
Client relationship management
Computer Skills
Critical thinking
Effective Communication
MBA in Rural Management
This specific course is very high in demand for the last few years. The government has brought some new revolutionary policies on rural development and encouraging students to be a part of it. This program is created to meet the need of skilled managers who have an interest in rural business and are proficient in marketing management. It encompasses the social-economic growth of the rural sector and implements management techniques to plan, execute and control various organizations in the field of agriculture.
This course is full of potential not only for the professionals pursuing it but also for the villages too. It can turn the villages into profitable business ventures without exploiting their beauty and natural resources. It can also get you high-paying government jobs. It also encourages you to visit rural areas, stay with the locals and help interested individuals to set up a rural business.
The average annual salary for MBA in Rural Management is around INR 9 LPA.
Skills required for MBA in Rural Management
Critical Thinking
Knowledge of regional languages
Problem-solving skills
Ability to be inspirational
Leadership skills
MBA in Healthcare Management
Healthcare is not only limited to the hospitals now and there has been a remarkable splurge in the Healthcare sector in the last few years. Individuals who are interested in the pharmaceuticals sector, government policies, hospitals, and health sector can opt for MBA in Healthcare Management. It will be your job to respond to many healthcare management problems faced by hospitals and other health care sectors.
You will be taught many subjects such as clinical pharmacy, medical emergency system, material management, etc. There is no shortage of companies that would hire you after you complete your course. You will have options for government jobs too and considering it comes within the healthcare sector it is a very high-paying job.
The annual salary for MBA in Healthcare Management is around INR 4.5 LPA to INR 14 LPA. It can be doubled if you are working in an international organization.
Top recruiters for MBA in Healthcare Management are WHO, Government of India, IMS Health, etc.
Skills required for MBA in Healthcare Management
Adaptability
Leadership
Personal Mindset
Quick thinking
Ethical Judgement
The innovative approach to building relationships
MBA in Agri-Business Management
Agribusiness is very high in demand for two reasons. First, it makes a very prominent part of our economy. Second, with some science and enhancements, the state of agriculture can be revolutionized. Many aspirants opt for MBA in Agri-Business because there is a very bright future in it. Here, the students learn how to manage companies that are responsible for the processing and distribution of agricultural products for consumers.
You will be learning all about the Horticulture industry, agri-input industry, food, farm, and livestock industry to become an efficient professional agribusiness manager. This is a high-paying sector and very entrepreneurial oriented too. Graduates in any stream can pursue it.
The average Initial Annual salary for MBA in Agri-business management is around INR 3,50,000 to 8.00.000 per annum.
Top recruiters for MBA in Agri Business management are UPL, Syngenta, Amul, Government of India, Axis Bank, etc.
What can I study after my MBA?
Getting MBA done has given you new perspectives about career paths that generally you would never think of. But, what now? You need to have a specialization in your chosen subject so you can truly become a master. There are many short terms and long term courses which you can do after graduating from MBA, like
Chartered Financial Analyst
Financial Risk Manager Exam
Certified Information System Auditor (CISA)
Certification in Risk Management Assurance
Project Management Professional
Production and Inventory Management
So now you know your options in abundance. It might make your decision-making a little bit easier. Although, keep your goals and what do you want to do with life in mind before selecting a specialization. It will shape your entire future and pave a way for you to become the best version of yourself. Hopefully, this article is of importance to you and help you select your preferred stream. For any other queries or more information, you can always visit our website.
Leave a Comment