Best Courses after 12th in Science Stream
June 2023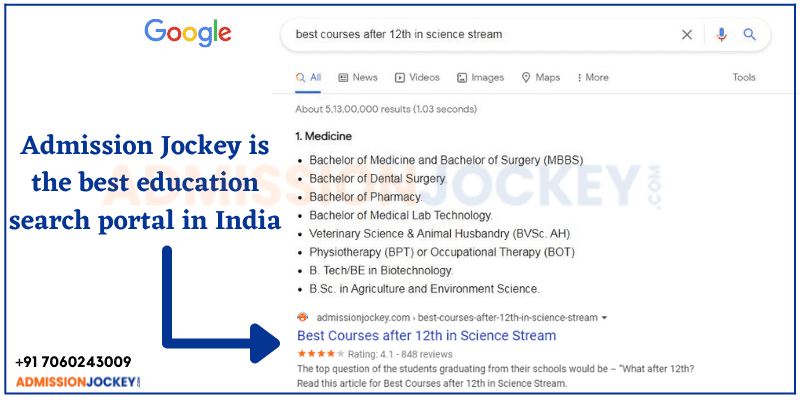 Best selected Courses after 12th in Science Stream
The top question of the students graduating from their schools would be – "What after 12th ?" There are millions of things to do and every student wants the right career prospect for them, so they must choose their desired course of action. And choosing a course is not an easy option, it never is, instead, it should be something very motivating for the students. Goals, aims, interests should be the primary factors and must be considered before opting for a course and a college. There are many interesting and rewarding courses available today to the students and in this article, we are just going to discuss the best courses to pursue after completing 12th in the science stream.
B.Tech is one of the most popular courses for most science stream students. Engineering in the last decade came out as the biggest giant in the field of higher education. With the rise in infrastructure, architecture, and new technologies, B.Tech has become one of the most popular courses to pursue after doing 12th in the Science stream.
B.Arch – Bachelor of Architecture
Bachelor of Architecture is an undergraduate program in the field of architecture. It teaches students the practical way of planning, designing, and constructing physical structures such as buildings, bridges, etc. A professional architect is involved in everything from planning to mapping and managing the construction sites. This is one highly paid field and is growing in a tremendous rate. One of the best programs to do after completing 12th.
B.C.A – Bachelor of computer applications
BCA is another very popular subject among science students. This is a three-year undergraduate program and as the name suggests educates students with computer science and programming applications. Complete knowledge of programming languages, hardware, software, networks and database management etc is given to the students. This course is a very demanding one and there are many colleges offering BCA in India.
B.Sc – Information Technology
This is one of the top picks of the students after graduating 12th standard. This undergraduate program involves the processing and management of information in technology in a systematic way. It is one of the best courses as it promises a bright future and a good salary. The fees structure is very reasonable in most of the colleges and the placement is almost 100%.
Animation, Graphics, and Multimedia
This course is very futuristic and will have its value till the end of the day. The animation and VFX industry plays a major role in every movie and media creation today. A career in animation is the most sought-after option these days and it shows your creativity to the next level. You get to work with the best animators and VFX artists in India and around the world too. This is probably the best option for all the students after graduating 12th.
B.Sc Nursing
B.Sc Nursing is also very high in demand. This is one of the best paramedical courses in India and a highly paid one too. The demand of nursing is pretty high given the situation of medical treatment in the country. There are many institutes giving world-class education in nursing and care. And Nursing graduates get placed in the top hospitals and medical facilities around the country. One of the best options for all the science stream students.
B.D.S – Bachelor of Dental Surgery
This program enables you to become a dental surgeon. The BDS course covers all the aspects of dental problems and dental surgery. It is safe to say that BDS is the most popular medical course after MBBS. It can take students to great heights in their careers as it opens doors of opportunities for students, they can work in reputed hospitals or they can become successful entrepreneurs and open their own clinics.
B.Sc – Nutrition and Dietetics
This is another course which is becoming more popular by the day. As the number of health enthusiasts and people engaging in healthy activities is increasing, the need to nutritionists and dieticians is increasing too. It provides the education of various types of nutrition for various types of bodies and knowledge of all various types of diets. After your certification, you can work with the top companies and people not only in our country but around the world too.
Bachelor of Physiotherapy is a four-year undergraduate program and it educates students with the knowledge of physical movement to enable them to treat muscle cramps and injuries. It is one of the most promising fields and can boost your career. The necessity of physiotherapy in sports is very important and students could get to work with the top athletes in the country or they can just open up their physiotherapy clinics and earn a good amount of money. This is one of the best courses to pursue after the 12th.
B.Sc interior design is an undergraduate course in Fashion and Interior Designing. This course enables students to visualize and implement new interior design ideas and plans which are quite effective and very high in demand. Students learn 3D design, space management, graphic designing, and many other computers and practical skills. This course is highly demanding and offers a bright future to the students. This is a very rewarding field and one of the best courses to pursue after the 12th standard for science students. Learning a few good skills can take you a long way.
Leave a Comment