Bachelor of Physiotherapy(BPT)
December 2023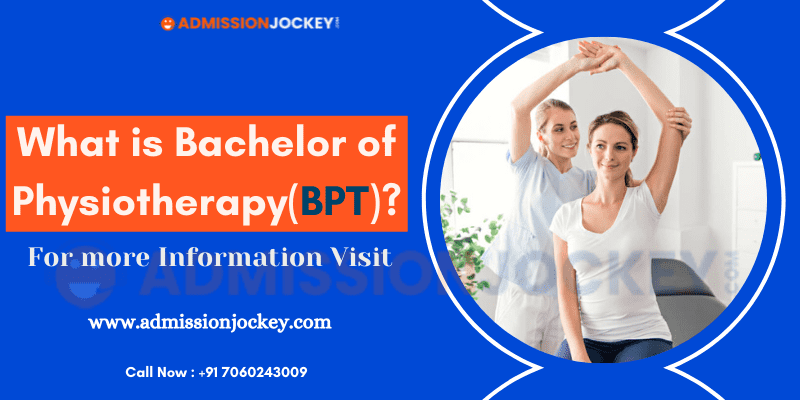 What is Bachelor of Physiotherapy(BPT)?
BPT is basically a bachelor's degree four-year undergraduate course that deals with the study of physical movements and directing them to prevent disability and to cure ailments related to movement. Physiotherapy is an associated health profession and it deals with curing the patients who are dealing with immobility or the lack of function and strength in their bodily parts. Various types of exercises, electrotherapy, kinesiology, and shockwave treatments are given to people suffering from chronic diseases related to limbs.
What are the eligibility criteria for BPT?
The candidates should have pursued class 12th with science stream.
They should have pursued science with Physics, Chemistry, and Biology as their major subjects.
A minimum 50% score in the 12th standard is a must for admission.
Some universities in India conduct entrance examinations like CET, JIPMER all India entrance tests, and many others.
Skills Required for the BPT course?
All BPT candidates must have the clinical knowledge and scientific implementation behind all the clinical practices they conduct for clients. Physiotherapy is a field of total concentration and a BPT graduate must be very patient with their clients and they should also have empathy for their disorder. They must encourage their clients and brief them with all the steps of the therapy before actually performing it. The other general skills that would be required are-
Communication in English
Empathy
Presentation Skills
Creativity
Scientific Intelligence
Persuasive tone
Confidence
Compassion
Read More About The Master of Physiotherapy (MPT)
Why Choose BPT?
Out of tons of courses out there, why you should BPT? If you are one of those people who wants to help people and make a career in it, you should choose BPT. You have the power to integrate alternate healthcare systems into your practice.
Physiotherapy is a niche full of opportunities as it deals with learning the anatomy of the human body and there are many things that are still not known about it. You may also get to learn something new in neurology.
Once you graduate, you will enter the professional world where you would get the opportunity to work various kinds of jobs all related to the treatment of patients, under an expert physiotherapist.
Physiotherapy has many specialties like pediatrics, orthopedics, sports therapy coach, etc. Many of these specialties are some of the highest-paying jobs in our country.
BPT Course Fees in India?
BPT course fees structure varies from college to college. BPT in government colleges can be done in as little as INR 8,000 per annum. While private institutes charge higher. The average fees of the BPT course range from INR 50 k to 1.2 L per annum.
BPT Course Details
| | |
| --- | --- |
| Full-Form | Bachelor of Physiotherapy |
| Stream | Medical |
| Course | Undergraduate |
| Duration | 4 Years |
| Age | 17 Years (Minimum) |
| Eligibility | 10+2 in Science Stream with (Physics, Chemistry, Biology) |
| Course Fees | 70,000 INR to 1.5 Lacs INR (per annum) |
| Average Salary | 2.9 Lacs to 8 Lacs INR (per annum) |
| Job Positions | Physiotherapist, Consultant, Therapy Manager, Sports, Physiotherapist, Research Assistant, Assistant Manager, etc. |
| Top Recruiting | Hospitals, Sports teams, health institutions, educational institutions, etc. Areas |
BPT Admission Process
There are more than 1650 medical colleges offering BPT courses in their curriculum. Around 70,000 students opt for pursuing BPT yearly. There are both Bachelors' and Masters' courses in BPT. You can apply via both offline and online modes. More details are given below.
Online Application
Visit the official website of the examination authority and fill in the options.
Get the acknowledgment slip printed.
The slip along with all of your documents and the demand draft of the given amount is to be delivered to the examination authority.
For applying offline, students need to pick up the form and the brochure from the exam conducting body or from the designated form centres and fill it up and deliver it to the exam conducting body on due time.
Although your class 12th result will determine whether you are eligible to give the entrance exam or not, the marks scored in the entrance exam will generally depend on your enrollment. But at least 50% aggregate in class 12th is a must if you are taking any paramedical course.
Entrance Exams for BPT – IPU CET, BCECE, IEMJEE, VEE, LPUNEST (There is no All India Entrance Exam for BPT courses)
Bachelor of Physiotherapy Specializations
As the name suggests, this program is curated to provide students with the overall abilities and skillset to observe, diagnose and cure patients suffering from bodily or limb movement problems. There are multiple areas where students can do specializations. But if you are undertaking a specialization, you are advised to pursue an MPT course too. Down below are some of the most preferred specializations in Physiotherapy.
MPT in Neurology
MPT in Sports Physiotherapy
MPT in Pediatrics
MPT in Cardio-Pulmonary Sciences
Bachelor of Physiotherapy Jobs and Scopes in India
Leave a Comment