Masters in Public Health (MPH) Colleges in Dehradun
October 2023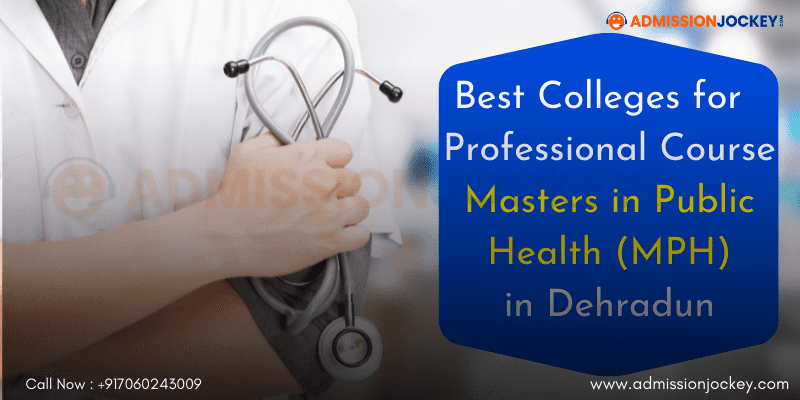 Masters in Public Health colleges
India is a pretty big country in terms of size and population. A densely occupied population leads to more diseases and to control them we need fully trained medical health professionals. For standard sustainable growth, we need qualified public health professionals. Therefore, many medical health aspirants are going for courses in Public Health. While there are many colleges that provide under graduation courses, in this article, we are going to talk about the best Masters in Public Health Colleges in Dehradun.
Sai Group of Institutions is located at Dehradun and is a privately run organization. They offer 9 bachelor's and master's programs in various disciplines including health science. They have a specially curated Masters in Public Health (MPH) program devised to educated students with the health issues faced by people around the globe as well as increase their understanding of the necessary steps taken during the times of epidemic, study designs, and observations. From knowledge hidden in books to the practical skills that would help in the long run, students will be equipped with everything in the arsenal. The campus provides all the facilities and the institute helps the students with 100% placement assistance. This is one of the best MPH colleges in Dehradun.
All India Institute of Medical Sciences (AIIMS) Rishikesh
Public Health is a big sector in India and not from now but even since our pre-independence time. If one has to pursue a career in public health then why not take your education from the most prestigious medical institution in India – AIIMS? Yes, AIIMS in Rishikesh also offers undergraduate and postgraduate courses in Public Health. With top-notch facilities and a magnificent campus, AIIMS Rishikesh is one of the most preferable options for students from Uttarakhand and around the country. The super talented faculty teaches practical solutions to students to promote public health and to counter health inequalities. The best part is the placement cell, they arrange the best of the best companies and hospitals to come and hire the fresh master's graduates.
Read More best medical colleges in India
Swami Rama Himalayan University
Swami Rama is another big university that offers Masters's in Public Health. Their program is crafted in a way that will help the students in developing the knowledge and skills required for the eradication of health-related problems in our country. The graduates from these institutes are well settled and playing major roles in big organizations. This course particularly provides exposure to the students in the various departments of the health industry. The university is big in itself including the campus and all the required accommodations are available. They also provide maximum placement opportunities to the students. SRHU is certainly one of the best MPH colleges in Dehradun.
Himgiri Zee University
Himgiri Zee university offers Masters in Public Health course and it is one of their best ones. Their program is a combination of Public Health education and health management and research. Their curriculum includes the study of medications, devices, diagnostic products. Himgiri has one of the best campuses in Uttarakhand with all the accommodations and facilities. The on-campus placement is remarkable and the bright students get the best of the opportunities. The college faculty is very talented and helpful and has a deep knowledge of the industry, that's how they bring the best out of students.
Institute of Clinical Research (ICRI)
There are many public health courses offered by many different colleges and institutes in Dehradun and the Institute of Clinical Research (ICRI) is one major name among them. At ICRI, you get trained by the best of the teachers who conducts various practical workshops and seminars to accommodate you with the knowledge that will help you in the long run. ICRI is a leader in different disciplines of healthcare management. And they have assembled this specific course of public health in accordance with the feasibility of students. Superior education, maximum placement, an all-inclusive campus, and an amazing ambiance make this facility one of the best MPH colleges in Dehradun.
Shri Guru Ram Rai Institute of Medical and Health Sciences
SGRR University is one of the best in Uttarakhand and is well known as they have many schools and colleges throughout the state. Their medical college in particular is quite popular and well known. They offer many courses in all sectors of health management including a Masters in Health Sciences course. They have highly qualified and designated faculty members trying to establish an educational equilibrium and making this institution a center of excellence. SGRRIM & HS has a campus of around 30 acres which comprises almost every accommodation and facility you can think of. Besides that, they offer bright students scholarships and the promise of 100% placement. SGRR is trying to create a new reputation in medical health education and they are one of the top medical health colleges in the city.
Conclusion
This article is for students who want to pursue a career in medical health. This concludes the top universities offering master's courses in public health in Dehradun.
Leave a Comment