Best B.Tech Colleges in Uttarakhand
October 2023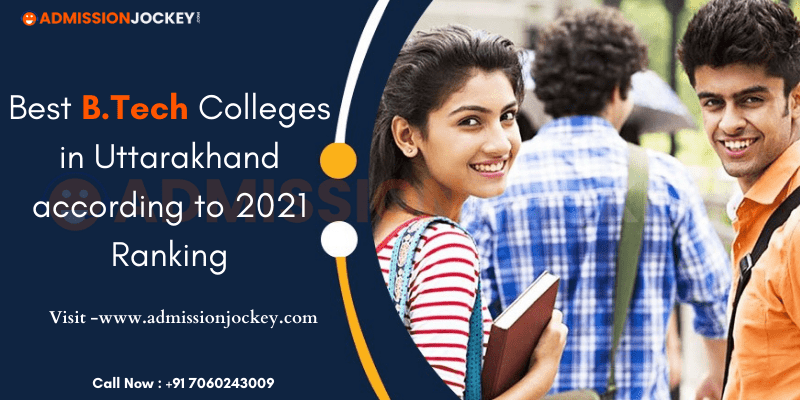 B.Tech Course and Colleges in Uttarakhand
The world is rapidly changing its dynamics. "More" is the new intoxication. More buildings, more office spaces, more electronics innovations, more hi-tech gadgets, just more of everything. The need for technical professionals and experts is now more than ever worldwide. It leads to the rise of engineering enthusiasts which in turn is the cause of so many engineering colleges.
In the northern state of India, Uttarakhand is famous for its education. There are a number of famous schools in its capital, Dehradun. It has also acquired recognition for its engineering colleges. You can say, Bachelor in Technology program in different specializations is the most popular graduation course in Uttarakhand. Some of them have made a reputation for themselves and are known not only in the country but also around the world. In this article, we are going to brief you about some of the best B.Tech colleges in Uttarakhand.
Course Highlights
Name of the course Bachelor of Technology Level Undergraduate Time Duration 4 years ( 3 years for Lateral Entry) Types of institutions Private, Government, Autonomous Universities Term type Semester Eligibility 12th with Science stream Specializations Electrical, Electronics, Mechanical Production, Automobile, Civil, Computer Science, etc. Average annual fees INR 60 K – 4 LPA Entrance Exams JEE Mains, JEE Advanced Average fresher salary INR 4-8 LPA Top recruiting companies IBM, Infosys, Wipro, Microsoft, Dabar, TATA, Google, Dell, ITC, etc.
Indian Institute of Technology (IIT), Roorkee
IIT is one of the most prestigious institutions in India and amongst the best in the world. This premier institute is of national importance in India. They have played a pivotal role in the technical field in India and have attained excellence in research and development in various engineering aspects. IIT is responsible for the latest advancements in technical-scientific research and produces quality output. it is one of the oldest institutes in India.
IIT takes students from diverse backgrounds Everyone wants to join IIT, not only Indian but international students too. Due to its high academic values, international students also come to IIT to pursue higher education and IIT facilitates all the accommodations for their students. Generally, IITians are the best-paid employees in our country but they also provide financial and other kinds of supports to students who are trying to start their own ventures. IIT Roorkee is hands down the best engineering college in Uttarakhand.
IIT Roorkee Highlights
Established 1947 College Type Government Area 365 acres Entrance Exam JEE Advanced Highest Salary Package INR 65 LPA Top recruiters Amazon India, Bank of India, Asian Paints, EMC, Bajaj Auto, Goldman Sachs, Linkedin, Siemens, etc
UPES is one of the major universities in Uttarakhand. Not only their programs are creative but also offer one of a kind experience. Located amidst the beautiful lush green environment, UPES offers the best B.Tech course in Dehradun in a number of specializations. Established in 2003 and since it has become a pioneer in engineering studies with its top-notch quality of education.
UPES campus is spread across 44 acres of natural beauty and offers every possible accommodation within the campus so that students don't have to face any trouble of sorts. They have state-of-the-art infrastructure, hi-tech research labs, cafeteria and food courts, sports arenas, hostels for girls and boys, and much more. They also have a student exchange program with their partner universities and thus many international students come to study in UPES every year. Students of UPES get placed in the frontier companies and get very handsome salary packages. UPES is undeniably one of the best universities in North India.
UPES highlights
Established 2003 Type Private Area 44 acres Entrance Exams AIEE/JEE Mains, NATA, CLAT, CMAT, GMAT, MAT Highest Salary Package INR 45 LPA Top Recruiters Indigo, HDFC Bank, IBM, Ford, Byju's, etc
Graphic Era University is the brainchild of Kamal Ghanshala and is amongst the top educators in Dehradun. It was established in the year 2008 and since has been marching forward with the mission to deliver the international standards equivalent to higher education to the students of India. One of their most famous courses is the B.Tech engineering course which is a 4-year undergraduate program and they offer many specializations in it. Their core strength is their faculty which is wisely picked from the best institutions in India and is highly educated and experts in turning rookies into skilled engineering professionals.
Graphic Era has a one-of-a-kind campus. It is lavish, aesthetic and eye-pleasing at the same time. Their infrastructure and architecture promote a calm and composed vibe and motivates students to do good. Spread in almost 25 acres, GEU offers every single facility a student may need. From multimedia-enabled classrooms to girls and boys hostel facilities, cafeterias, 24/7 wi-fi assistance, a well-stocked library, and much more. GEU offers maximum placement assistance and industrial training and internship programs. Definitely among the best if not the best engineering colleges in Uttarakhand.
Graphic Era University Highlights
Established 2008
Ownership Private
Established 2008 Type Deemed to be University Total Fees INR 2.26 LPA to INR 3 LPA Entrance Exams JEE Mains Highest salary Package INR 12 LPA Top Recruiters Accenture, Wipro, TCS, Infosys, Tech Mahindra, Sapient, Samsung, HSBC, Byju's Salary
JB Institute of Technology (JBIT)
JBIT was established in the year 2009 and since it has one of the prime adobe of the students to study and practice engineering. JBIT made a name for itself for offering a number of undergraduate, postgraduate, and diploma programs. Although, BTech is the most popular program here. It has a beautiful campus that is spread over 25 acres of land. JBIT is one of the top choices of students in Uttarakhand because of its top-notch faculty and unparalleled academic excellence.
They offer so many accommodations to their students. Well-stocked library with so many variations, conference centers, seminar auditoriums, IT center, hostels for boys and girls, gym, sports, ultramodern labs, and much more. Well-educated and dignified faculty attracts more students but the amazing placement records have to be the main reason. JBIT is acknowledged by many recognized councils. Certainly, one of the best BTech colleges in Dehradun.
JBIT Highlights
Established 2009 Type Private Affiliated to AICTE, PCI Annual Fees INR 90,000 Highest Salary Package INR 9.5 LPA Top Recruiters TCS, Paytm, Sony, Hero, NIIT, WIPRO
Dehradun Institute of Technology, popularly known as DIT is one of the major higher studies institutions in Dehradun, Uttarakhand. It was established in 1998. They offer Bachelor's, Masters's, and doctoral-level courses in many areas, including engineering. The B.Tech course, in particular, is most popular and DIT offers many specializations to choose from. It is affiliated with AICTE and is approved by UGC, COA, and PCI. Also, the university campus boasts all the necessary facilities to ease the learning and living of students.
DIT offers many scholarship programs and students exchange program and quite a lot of students facilitates from it. DIT has collaborations with upscale business organizations and institutes to expand its knowledge base. DIT also hosts some of the best teachers in town. The faculty here are highly educated and talented. The placement cell works day and night to bring in the best of the companies on campus. DIT is also located at the most scenic location. DIT University is rapidly leaving its mark of becoming the top educators in Dehradun city.
DIT Highlights
Established 1998
Established 1998 Type Private Recognition UGC, AIU, IAU Entrance Exams JEE Mains, CAT, GATE Total Fees INR 4.5 Lakhs Highest Salary Package INR 9 LPA Top Recruiters Goldman Sachs, Dell, TCS, Hitachi Consulting, Lenovo. Adobe, Clicklabs, etc
Govind Ballabh Pant University of Agriculture and Technology is one of the most prestigious and the oldest technical university in the state of Uttarakhand. It is popularly known as Pantnagar University. Started back in 1960, GB Pant is the first agriculture university in India. It holds so much value because it is a government college and has attained education excellence status. The most popular course in their curriculum is B.Tech and GP Pant University offers a number of specializations in the undergraduate engineering degree course.
The highlight of this institute is that it provides a top-notch world-class education for a very cheap fees tag. Being a government college, the yearly BTech fees is around INR 38,000 per annum. Although a government college, it offers all the necessary facilities to its students. Their degree holds greater significance than most of the other private universities and that gives the students an extra edge while giving interviews and for campus placements. Students from GB Pant University are working with the top companies not only in India but also worldwide. Unarguably, GB Pant University makes the Best BTech Colleges in Uttarakhand list.
GB Pant University Highlights
Established 1960 Type Government Affiliated to Uttarakhand Technical University Courses offered B. Tech, M.Tech, MCA, Ph.D., etc. Entrance Exams JEE Mains, CAT Highest Salary Package INR 12 LPA Top Recruiters Dell, HTC, N-life Nutrition, Lenovo, etc
Quantum University was started in 2008 and is located in Roorkee. Their revolutionary learning techniques are the top picks of the students of Roorkee and other parts of Uttarakhand. Many times, this university has been named as the number 1 institute in North India. Quantum University offers many undergraduate, postgraduate courses in engineering in many specializations. Their use ultra modernized advanced robotic control lab on their campus with their collaboration with the European center for Mechatronics in Germany.
They have a European-style infrastructure that looks very aesthetic and eye-pleasing. The computer labs and Wi-Fi assistance are probably the best in the North. They also offer every other major facility. Other than brilliance in the academic curriculum, the focus is also laid to hone the extracurricular skills of students. Quantum has hired the most impactful faculty with years of experience. While the fees are very genuine for the quality of education students get here, the salary students get after they get placed is quite high.
Quantum University, Roorkee Highlights
Established 2008 Type Private Entrance Exams JEE Mains, GATE Fees Range INR 48,000 – 2 Lakhs Highest Salary Package INR 18 LPA Top Recruiters Tech Mahindra, Syntel, NIIT, Yes Bank, Indian Army, SKF, Quick Heal Security, etc.
Roorkee Institute of Technology is a very carefully planned and implemented college. It was started by a group with more than 20 years of experience. They offer B.Tech, M.Tech, and Ph.D. level courses in Engineering. Affiliated to Uttarakhand Technical University and approved by AICTE, RIT was established in 2005. RIT believes in the blend of technology with academics. That's why it is the first college in Uttarakhand with all Apple labs. RIT knows the use of artificial intelligence to prepare students for the highly competitive engineering industry and that's why they have implemented it.
Their NIRF rank is 6. What makes RIT so amazing is the perfect combination of amazing infrastructure, highly qualified faculty, world-class labs, and a placement record which is better than any other North Indian engineering college. With almost 95% campus placement, they top the placement chart. Not only theoretical but also practical aspect of the training is taken into consideration while preparing students and regular industrial visits are conducted. This is one institute that really stands up to whatever they say.
Roorkee Institute of Technology Highlights
Established 2005 Type Private Entrance exams JEE Mains Annual Fees INR 100,9000 per annum Highest Salary package INR 56 LPA Top Recruiters Infosys, Wipro, Microsoft, IBM, HCL, HDFC Bank, HP, Samsung, Ambuja Cement, etc
Dev Bhoomi Institute of Technology
One of the top professional education colleges in North India, DBIT has become a center for the majority of engineering aspirants from Uttarakhand and other parts of North India. With world-class education and facilities, while securing adaptable courses, DBIT has become one of the first picks of students after completing their school graduation. Since its inception in 2005, DBIT has been consistent with its amazing results with the student placement and has been on the list of top engineering colleges in Dehradun.
DBIT has a beautiful campus spread in a sprawling 42 acres of area. And the institute looks amazing because of its superior architecture and infrastructure. Within the campus, they provide all the facilities like residential hostels for boys and girls both, a giant mess, a well-stocked library, gym, sports facilities, auditoriums, and medical facilities. Hi-tech labs have been introduced for students' research and development. To unleash the hidden potential of students, they organize various types of workshops, events, seminars, and guest lectures. With pretty good placement and ties with various organizations for industrial training, DBIT is one of the major technical educators in Uttarakhand.
Dev Bhoomi Institute of Technology Highlights
Established 2005 Type Private Approvals AICTE, PCI, COA, CCIM, etc Affiliated to UTU, UBTER, H.N.B Garhwal University Campus 42 Acres No. of companies visited 140 plus Highest Salary package INR 40 LPA Average Fees INR 73 k – 1.1 LPA Top Recruiters Wipro, JK Tyres, HCL, HP, HSBC, Infosys, TCS, Deloitte, Hitachi, Extramarks, etc
Tula's is amongst the top engineering colleges in Uttarakhand and offers many amazing academic courses at the undergraduate and postgraduate levels. Their B.Tech program is one of their finest and the most desirable ones. They nurture and promote students' talents through the guidance of experienced faculty and with their amazing architecture and infrastructure. Their industry-oriented curriculum is changing the aspects of engineering education in Uttarakhand.
Tula's has a team of highly efficient very accomplished faculty members to assist students in any way possible. They provide facilities like a boys and girls hostel, 24/7 wifi assistance, a library with thousands of books, AI-oriented laboratories, a gym, medical facilities, and much more. Furthermore, they provide full placement and internship assistance. They provide expert counseling individually to help students define their career of choice. Tula's students are working with major MNCs around the country helping this college to become the best technical college in Dehradun.
Tula's Institute Highlights
Established 2006 Type Private Entrance Exams JEE Mains Annual Fees INR 98k per annum Highest Package INR 20.34 LPA Top Recruiters Apptus, Adobe, Exza, Barclays, CSC, Dixon, Demand Farm, etc.
Leave a Comment