Top Ayurvedic Colleges in Dehradun
September 2023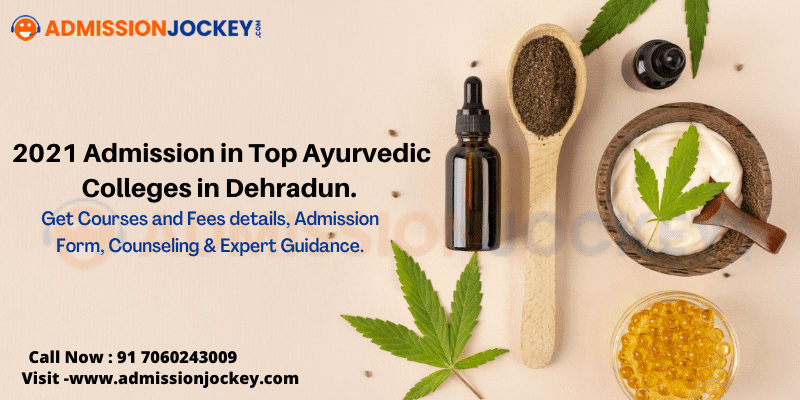 Best Ayurvedic Colleges in Dehradun, Uttarakhand
Uttarakhand, the magnificent land of sages, tourists, and adventure junkies is famous for its captivating beauty. After its separation from Uttar Pradesh, the education criteria changed significantly and completely in this state. Dehradun the capital city which is famous for its high-class schools, engineering, and medical colleges has in the last decade seen a marvelous increase in Ayurvedic colleges and ayurvedic courses. In this article, we are going to discuss the Top Ayurvedic Colleges in Dehradun from where you can pursue your Ayurvedic courses in Dehradun.
Dev Bhoomi Medical College of Ayurveda and Hospital
Dev Bhoomi institutions are the leading education provider in Dehradun. They provide Bachelor's and Master's courses in many disciplines. Their Ayurveda college is known to provide one of the best education in Ayurveda in the city. They are known for the highest quality of education in health care and promote research and development in the field of Ayurveda thus promoting the highest level in human consciousness. They believe in the power and potential of Ayurveda in disease control, prevention, and health promotion worldwide. They have great infrastructure and all equipped labs for students to research and students get placed in reputed hospitals and companies after graduating from here. One of the best Ayurveda colleges in Uttarakhand.
Uttaranchal Ayurvedic College, Dehradun
This college was established in the year 2001 with a mission to provide superior knowledge of Ayurveda to everyone and promote the power of Ayurveda at the international level. It is affiliated with HNB Garhwal University and is accredited by AICTE. Their BAMS (Bachelor in Ayurveda, Medicine, and Surgery) course is very popular among all the students seeking admission to this reputed college. Although the college doesn't provide a hostel facility for the boys, it still has pretty much all the accommodations needed within the campus including a canteen, computer lab, girls hostel, well-equipped library, medical facilities, and much more. The fees are pretty affordable but the admission criteria are different for different programs. UAC is certainly one of the top Ayurveda colleges in Dehradun.
Read More Top Medical Colleges in Uttarakhand
Uttarakhand Ayurveda University, Dehradun
This university was established in the year 2009 to equip students with the old and successful concepts of Ayurveda and its implementation in medicine and surgery using Homeopathy, Yoga, etc to provide more conceptual awareness to the students across the country. They provide undergraduate and postgraduate courses to the students. They provide all the facilities to the students and basically take care of students until they become skilled professionals in the art of Ayurveda. A record 50% of students get placed in the hospitals affiliated by this university alone and many other students who opted for government jobs are successfully placed in various govt. related sectors. Entrance exams are conducted for admissions but once you get enrolled here, the way for endless opportunities opens for you.
Beehive Ayurvedic Medical College & Hospital, Dehradun
Beehive ayurvedic college has become a center of excellence on the basis of superior education, training, research, and development in Ayurveda. They offer an undergraduate program in BAMS. They have all the facility including a lavish hostel, a well-equipped library, yoga classes available for students, and along with it, they have brilliant infrastructure too. The very educated and talented faculty thrives to bring out innovation and productivity in students and help them with everything during their stay at the college. They have a dedicated training and placement department that stays in touch with various industrial groups and makes sure that the well-deserved students get placed in the best facilities.
Doon Institute of Medical Sciences (DIMS), Dehradun
DIMS is located at Dehradun and is surrounding by the Lush green valley of Garhwal Himalayas. Their Ayurveda wing was established to give back to society by providing top-notch education, research, and learning at the highest levels of excellence. They have a state-of-the-art infrastructure providing all the accommodations and amenities to the students including hostel facilities. The super educated and talented faculty members always trying to create a better future for the students. They offer a Bachelor's course in Ayurveda Medicine and Surgery and a diploma course in Panchkarma. They also have many scholarship programs and students can get up to 100% scholarships according to their potential. They have world-class libraries to initiate the newest researches on the respective field and they provide 100% placement assistance. Wouldn't be wrong to say DIMS is one of the best Ayurveda colleges in the city.
Leave a Comment