Pay After Placement Course
October 2023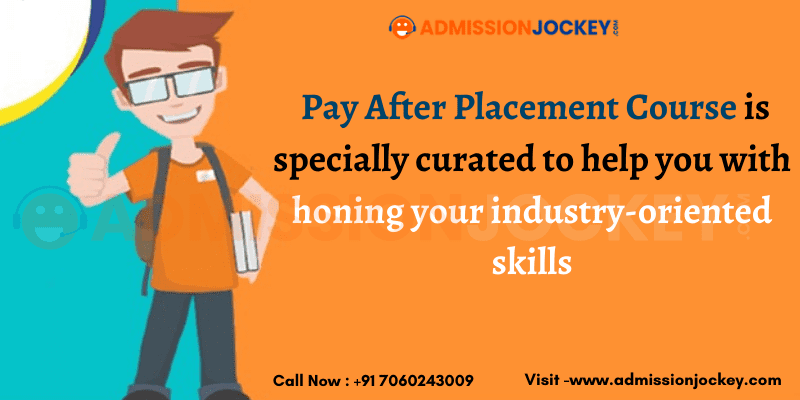 Pay After Placement Course
Pay after placement is an opportunity unlike any other. The PAP course is specially curated to help you with honing your industry-oriented skills. With the primary aim to eliminate all the obstacles faced by the students to be successful.
Under PAP Program, you don't need to pay anything upfront. First, you will successfully complete your course and then get a job. You will only start to pay once you get your first salary.
It basically amplifies the chances of getting you a good job without causing any financial risk. PAP is for those students who are aiming for a bright future but don't have proper financial support to aid them. Trying to change the custom ways in our country with the curriculum which is industry-oriented, renowned faculty and hi-tech teaching methods will help you out with the guaranteed placement.
How do you get a college placement?
Although Pay After Placement assists with assured placement, you have to be the one who needs to put on some hard work to get the job, ultimately. And since there is going to be a lot of competition, one must be aware of all the traits and qualities, recruiters look for in a candidate.
Before you sit in a placement, you should learn about the organization and what they want from a new campus recruit. There are some pointers that can help you to crack campus placement interviews.
Research – It should be the first thing you do. Research all the companies you are sitting for. Find out the goals and visions of the company using the internet as a tool. Get in touch with your seniors or other associates who may be working or might have worked with the company you are sitting for. Get an in-depth understanding of the company.
Build a kick-ass resume – If we look through the company's perspective, your resume is the first thing that could give you an edge. And in campus placement, recruiters will see plenty of other resumes too, so try and make yours as unique and catchy as you can. It will surely help you.
Focus on aptitude tests – The recruiters in various firms are becoming dynamic. They are not only focusing on the technical part of the interview but also the aptitude part. Aptitude is going to be an important part of your interview, so work on it.
Group Discussions – Group Discussions or GD has become a priority in most of the best management job interviews in India. Because collaboration is essential in every business, recruiters will be looking for your social skills and how well you get along with others. You should be able to communicate effectively.
Be presentable – Be well-dressed, dress something great that will boost your confidence, and arrive on time, as recruiters have many interviews to go through.
Read also the complete concept of Pay after placement
Are college Placement exams important?
You have to take placement tests, once you are accepted by a college. It is basically a test of the academic knowledge of the entering students in subjects like Maths and English. Then, it becomes easy for the college administration to put students in classes according to their calibers. Placement tests are crucial since they expose you to the actual world while also developing your talents, which boosts your confidence hundreds of times. It might also assist you in deciding on a professional path.
Do you have to take a placement test for every college? This is amongst the top questions of students these days. Almost every undergraduate and postgraduate college takes placement tests. The placement tests are not taken by all colleges. Some government institutes don't take placement tests.
How to get a high placement?
There are a few tips that you can follow to get high placement.
Make an effective and eye-catching resume. Any recruiter would notice that right away. The headlines should be prominent, and the introduction should be brief and compelling. If you make it as sharp as possible, you'll have a better chance of succeeding.
Be aware of your interviewer and the organization as it always helps as you can expect a few of the questions they are going to ask during the interview.
Candidates make numerous errors during the interview, which might lead to disappointment when they return home. That is not something you should do. Maintain eye contact, stay confident, and give honest replies while avoiding acting ignorant in front of them.
In an interview, you are checked for more than the knowledge you possess. Keep your body language friendly but maintain your composure. Keep your tone natural and dress in formals as it increases your numbers. Be a mature person but do not be afraid because no one is really perfect.
Be excited and interested in the job you are applying for. The interviewer should be aware of what your priorities really are. And that they are not going to change anytime soon. Any organization involves a mutual approach since you and they both require it. Both parties should be comfortable with each other.
Whether you are selected or not, the first three minutes are probably going to decide it. The first three minutes are very important. You must make an impact at that time. Your sentences should be perfectly framed and timed. Speak more about the job that you are opting for.
How do you teach Student Placement??
Many people want to know, what is and how long is a placement year? Usually, Students' placement year is the time spent between the second and final year of a degree while working in a real environment. It is also called Industrial Training.
Students are given consultation before their placements.
How to prepare for a college placement test?
If you want your college career to take off the right way, you must be featured in one of those college placement tests. They aim to test your skills and decide which level would be suitable for you to start from. A placement test will definitely test your primary and high school skills. So although, there is no specific preparation required for it you can do the following steps –
First, make sure that you have to take an admission test. You can do that by just talking to an admission officer and they will let you know whether or not you have to take the test.
In case you have to take the test, choose the best subjects that you want to take this test with.
Use resources from your college, most colleges that offer placement exams have studying material too like mock tests, workshops, notes, etc. It could be available online or you have to prepare within campus only.
Most of these tests are in the Multiple Choice Questions format. So, sharpen your multiple choice skills.
Review what you have learned. All the important terms. Every formula that you learned along the way. Also, solve the practice papers and other tests.
Get additional support from various websites for success in placement tests. There are many websites that offer sample papers and give you an overview of the type of questions that could appear in the test.
Explore Best College in India -
Dolphin (P.G.) College of Life Sciences

Ebenezer Group of Institutions Bangalore
Leave a Comment