A complete Guide to Campus Placement
December 2023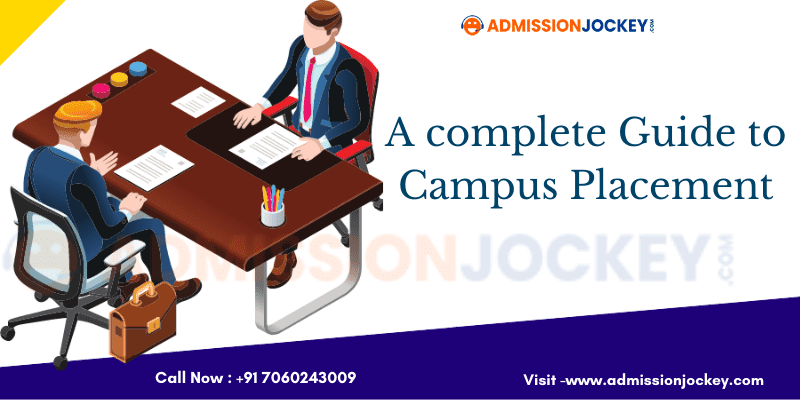 How do I find my dream Placement?
How to prepare for campus placements? These are the top questions parading in the minds of final-year students. Campus placement has become significantly mainstream since almost all the MNCs step into colleges to hire their fresh graduates. It might easily be the most important thing for the final year students as it would decide their future. That's why we have compiled a complete guide for campus placement for you that will help you to understand the process better. Let's check it out.
Make a Plan
You just cannot nail all rounds of an interview and get your desired job, if you don't have a proper plan to go with. Having a clear path would definitely help you with the preparations.
It would help you sort out the problems and will give you an answer to most of your questions, nullifying confusion and giving you that much-needed confidence and self-belief.
Build a terrific resume
Your resume mostly determines whether you are capable of sitting in an interview or not. It speaks for you. So, you would need a properly updated resume with your accomplishments, skills, qualifications, and goals highlighted in Bold.
Your resume should be attractive and able to do 50% of the job. But only state facts but with an effective tone and that should do it. Do not forget to mention extracurricular activities and your technical skills to give yourself an extra edge.
Check out: The Importance of study in India
Practice is the key
You must practice for all the rounds. The skill Assessment test is usually the first round for hiring in most companies. It is generally MCQ based exam. It is supposed to sort out and select the capable candidates who get the call for an interview.
The exam could be held manually or digitally. But it doesn't matter because these exams are very crucial for one's selection. You must prepare yourself for Assessment tests.
The Aptitude test makes most of the assessment tests. It is also the first hurdle you would cross to get closer to your dream job. You could possess many skills that could benefit the company but if you cannot pass this test, you are never going to get that job.
They are not that hard though. With proper practice and training, you can easily get them right.
Aptitude Test consists of your Numerical, Verbal, and Logical Reasoning Ability.
Go with a plan of attack. Solve the questions that will take lesser time than others first. Just solving more doesn't work, you need to be accurate too. So, come to the more time-consuming questions later.
Start practicing for exams that are more adaptive to computers. These are system-generated questions and begin with easy questions which becomes harder with every right answer you provide.
If you don't know the proper answer, do not just go with it just for the sake of it. There is negative marking included too. Since it is most probably in the MCQ format, just try and eliminate the answers which don't seem relatable.
Follow the test pattern and just practice again and again. You can go through many websites that will help you prepare better. Be confident and keep your mind in the right place.
The second part of the Assessment test is programming. It is recommended that you must know a few of the programming languages because there will be questions from the coding section too.
If not more, you should have knowledge of at least one object-oriented programing language such as C, C++, Java, or Python. It will make your work easier because you will have to answer on the basis of logic and no an explanation.
You must practice a lot whether you know programming languages or don't. If you don't, then you can learn basic languages easily through many online platforms such as Hackerrank, Codechef, etc.
The coding round doesn't work with luck. So, just don't answer anything. Be patient but be active too. It is basically a trick round and you have to be extra careful with what you do.
If you really want to pass the test with flying colors you must have the knowledge of Data Structures, Algorithms, Computer Networks, Operating systems to cross the tech round of the interview.
Interview Round
Now comes the big dawg. The interview round is the most important of all. Even if you haven't done the best in other sections, the interview round can flash all the spotlight on you if done right. It gives you a chance to create an optimistic image in the eyes of the interviewer.
The interview is conducted in two rounds. One is technical and the other is human resource.
Technical Interview
It focuses on your technological skills. The questions in this round will be from programming, data structures, OOPs, operating system, etc. You must prepare for puzzles and coding questions too.
Work on your data structures and algorithms. Having its knowledge will help you a great deal as they make most of the technical round section. You can refer to Youtube videos to learn more about it.
Your conceptual knowledge will also be tested. The topics like the theory of computation will help you showcase your problem-solving ability, so they must also be focused upon.
You might as well know, that practical knowledge is as much important as a conceptual one. Your project work can help you gain momentum. Be aware to learn and revise all the details of your project before the interview.
Human Resource Interview
The human Resource interview focuses on your skills and traits as a person. It will test you from the inside out. Your strengths and weaknesses. Your achievements and accomplishments etc.
Before you go out for the interview, research the company. Their moral values and the area of specialty. Show them that you are enthusiastic about it and want to join their company.
You have to keep the conversation going. Take time to give your answers. Your tone must be smooth and slow, don't use rash language. Slow down your horses and make it interesting for the interviewer too.
There are some very common HR questions and yet very tough to answer properly. Questions like "Tell me about yourself", "What are the strengths and weaknesses". There are many such questions about yourself. You just have to be yourself. Do not freak out.
Okay, if they are looking for a perfect employee, you are also looking for a great company. That's precisely why you have to ask questions too. You can ask them about the work culture, the use of tech in various departments of the company, and many others. Check out the internet to learn more about the questions to ask during the interview.
Conclusion
This is our complete guide to campus placement. Cracking an interview or getting a campus placement could not be so easy for everyone but it is completely doable. You just need to be attentive and presentable. Also, all the aforementioned steps will help you through your selection process. Just keep in mind that you should be confident and optimistic, and you don't need to worry about anything else. In the end, some would get selected and some may not, but that's how it works. You should respect the decision of the interviewers and give your regards and try again with a better mindset.
Leave a Comment