Top Nursing Colleges in Dehradun
June 2023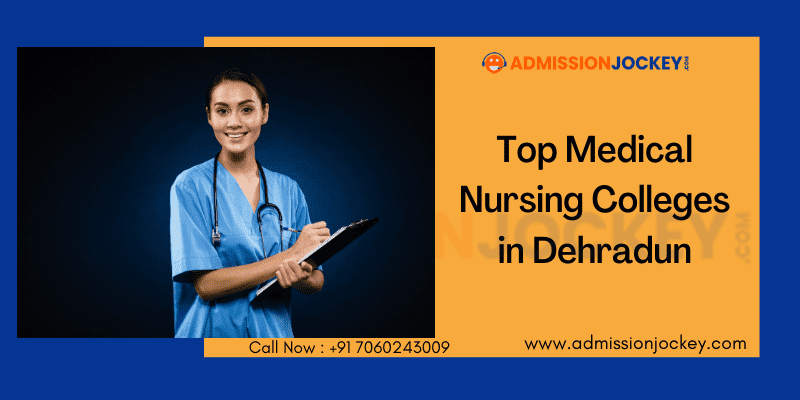 Top Nursing Colleges in Dehradun
Medical science is a very high demanding profession. Health and welfare are amongst the top priorities for students these days. Nursing, in particular, is a discipline that is preferable to most students. Nursing colleges in Dehradun have made a name for themselves for providing complete education, streamlined infrastructure, and almost 100% placement. High tech labs, new technological advancements, very affordable fees, expert faculty, and connection to the real world makes Dehradun a much desirable option for the students who want to pursue nursing throughout the country. Check out more about these top nursing colleges in Dehradun in the article below.
Sai Institute of Nursing, Dehradun
Sai Nursing Institute is a part of the Sai group of Paramedical and Allied Sciences. They offer one of the best nursing education in Dehradun. Nursing Courses in India are amongst the highest paid ones and if you graduate with the right university, your chances of getting a good job become double-fold. This college is affiliated with HNB Garhwal University and is recognized by the Ministry of Medical Health and Family welfare. The faculty are hired in such a way that students can get individual attention and thus creating a healthy atmosphere overall which is important for the mental stability of the students and bringing out their maximum capability. The interactive seminars, regular workshops are conducted to test the skill set of the students. They also offer 100% on-campus placement to bright students. For more details, you may check out their official website.
Dev Bhoomi Institute of Nursing
Dev Bhoomi Group also offers nursing courses with their Dev Bhoomi Institute of Nursing. It is affiliated with HNB Garhwal University and is approved by the All India Nursing Association. They provide comprehensive education and prepare nursing experts in the field of the health care sector. Their course includes everything from Microbiology, Medical-Surgery Nursing, Child Health Nursing, Nutrition, Anatomy, Obstetrical Nursing, Midwifery, Management of Nursing services and education, and many others. Their voluntary approach inspires students to take smooth and specific action during the time of emergency, thus creating professional nurses. Their campus is quite good and their fees is affordable. Dev Bhoomi is one of the best institutes of Nursing in Dehradun.
Doon Institute of Medical Sciences
DIMS is another example of how professional institutes should be. It acts as a bridge between amateur students to professional lifesavers. Their nursing courses are amongst the best in the city. The highlight is their Bachelor of Science in Nursing (BSc Nursing). DIMS focuses on developing the integration of critical skills, thoughtful thinking, expertise in skills, and the moral values required for the practice of nursing. Their courses prepare students to become expert caretakers at the bedside of individuals of all ages, communities, families. From the time they are sick till they are fit. The campus provides all the necessary tools and accommodations and the fees are reasonable too. That's why DIMS is one of the best medical colleges in Dehradun.
Uttarakhand Technical University, Dehradun
Uttarakhand Technical University is unarguably one of the best in the Indian state of Uttarakhand. They offer multiple courses in every field including medical science. Their BSc Nursing and other nursing programs are top-notch. It is approved by the All India Nursing Council and follows all the norms and rules for the betterment of the students. UTU's nursing department provides good judgment, a detailed understanding of the functions of the body, interdisciplinary care, public health, and almost everything that comes under a vivid health care settings. The students here know how to take leadership during critical moments. The campus of UTU is one of the biggest in the city and they provide all possible accommodations that a student may need. Their campus placement is better than most other colleges offering the same courses. If you want to be a nursing professional, you can give UTU serious consideration.
Himalayan College of Nursing
Himalayan is a leading name in the education sector in Dehradun and Himalayan nursing college is a frontrunner in providing nursing education that rivals the international standards of nursing. The highly qualified team of faculty which is equally dedicated makes the students understand the in-depth knowledge of this profession. This college is affiliated with Uttarakhand Technical University and is approved by the All India Nursing Council. The graduated students have exceptional employment records so far. They offer undergraduate and postgraduate courses in nursing. The fees are quite affordable too but there are only limited entries so if you want to enroll yourself with this institution, you should keep a check from earlier on. Himalayan is one of the best nursing colleges.
Uttaranchal Ayurvedic College and Hospital, Dehradun
Uttaranchal Ayurvedic college is amongst the most reputed ayurvedic colleges in Uttarakhand. They also offer nursing courses as well. It was founded back in the year 2001 and is affiliated with the famous H.N.B Srinagar Garhwal University. It is also approved by CCIM (Central Council of Indian medicines). This college has both postgraduate and undergraduate courses for the students. The campus of this college is equipped with the latest technology and brilliant faculty who train students with the practical knowledge which upgrades them in real-life situations. If you want to enroll here, you must fill all the admission eligibility criteria which you may check from their website's admission guidelines.
Siddhartha Nursing Education And Research Institute
Siddhartha Nursing college which comes under Siddhartha Educational Society is an educational hub for many nursing aspirants from all around the country. It is located at Sahastradhara, Dehradun amidst the lush green surroundings. They have 2 courses on their list namely BSc Nursing (4 years) and MSc Nursing (2 years). It is affiliated with the H.N.B medical university, Uttarakhand Nursing Council Dehradun, and Medical Education Department run by Govt of Uttarakhand. The faculty here emphasizes overall personality development and learning skills that would not only help the students with their work but can also help them in daily life. The fees are quite affordable too. Check out all the steps and formalities on their website before you enroll.
Combines Institute of Medical Sciences and Research
CIMSR college of nursing in Dehradun is one of the leading colleges for pursuing nursing in Dehradun. Established in the year 2002, it is affiliated with the Hemwati Nandan Bahuguna Garhwal Central University and is approved by the Indian Nursing Council (INC). They offer 4 different Nursing courses – B.Sc Nursing, M.Sc Nursing, ANM Nursing, GNM Nursing. CIMSR's facility is top-notch with highly trained faculties, fully equipped laboratories, and industrial training in the biggest platforms. They have a dedicated placement cell with a focus on bringing the best opportunities for the students according to their aptitude, skills, strengths, and weaknesses. All the accommodations including a hostel facility for the students from outside are available. CIMSR is hands down one of the best medical colleges in Dehradun. You can check their official website for more information about their recruitment process.
Leave a Comment