Top Fine Arts Institute in Dehradun
December 2023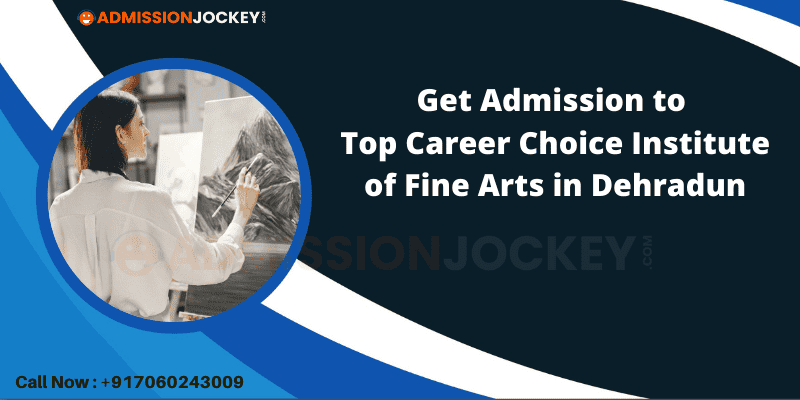 Best Institute for Fine arts course
Art has always been an intimate part of our culture for thousands of years. Fine art is a certificate of undergraduate degree level course and it can put students into a place where they have a variety of career options to roll with. They can choose the domain of graphic designing, teaching, Art officer, flash animation, archeology, and much more. It is basically a course that fits in for everyone looking to do something creative with their life. This course is becoming quite popular in Dehradun among the fresh graduates from 12th. Given the probability of a bright future in this very domain. In this article, we are going to take a look at the best fine arts institute in Dehradun.
School of Art and Fashion Technology, Dehradun
School of Art and Fashion Technology is situated in Dehradun. It is one of the most renowned institutes for providing fine arts courses. They offer a one-year diploma in fine arts and students from any stream after completing their 12th can opt for it. It is an entry-level course and students learn the basics of fine arts like origin and development of various forms of arts like painting, architecture, etc.
It prepares students for the industry by giving them a comprehensive look at the subject. Admission at SAFT is merit-based or Entrance exam-based. The total fees for this course is quite affordable which is around INR 52,800 which is to pay one time only. The campus placement is fine but not that great. Overall, SAFT provides quality education in fine arts in Dehradun.
Minerva Institute of Management and Technology, Dehradun
Minerva Institute (MIMT) offers multiple fine arts courses in Dehradun. They have one Bachelor's degree course in Fine Arts and one Master's level too. Fine arts is basically the study and creation of art visually. It includes art forms such as dancing, theatre, painting, video editing and production, conceptual art, sculpture, architecture, archeology, interior designing, and much more.
It has become such a big and profitable sector in the last few decades that the implementation of your fine arts skills can earn you a high-paying job and you can live entrepreneurial life too. The infrastructure of MIMT promotes creativity which is most important in fine arts. Their students are contributing a lot to this specific field using their innovation.
Read More: Top Bank Coaching centres in India
Dehradun College of Art
DCA or Dehradun college of art is another very prolific fine arts institute in Dehradun. They offer diploma and Bachelor's courses in Fine arts. Their Bachelor's in fine arts is a 4-year program available in different domains like painting and applied arts. They collaborate across campus to implement the best fine arts skills and innovative approach to teach students according to their domains.
DCA has a highly experienced Ph. Ds level researchers and professors. They also offer scholarships up to 10% to the bright students recommended by their previous institutions. Students are also given placements after graduation and they have a very creative campus plus infrastructure which promotes innovation and progress.
Institute of Fine Arts
Institute of Fine Arts or IFA offers diploma, Bachelor's, and Master's level courses in the discipline of fine arts. There are many fine arts subjects to choose from and they offer specialized study to students in the subjects of their choice. Their training program grooms students to become skilled professionals in the field of fine arts, applied arts, graphic designing, advertising, packaging, animation, and many other courses.
Their fees vary according to the undertaken courses and they offer some scholarship programs too. You may check their website to know more about it. They conduct regular workshops and seminars to clear the doubts of their students. IFA is one of the best colleges offering fine arts courses in the city of Dehradun and they are very passionate about their work culture.
Also Read: Best CAT Coaching Centers in Dehradun
University of Petroleum and Energy Studies
UPES offers a Bachelor of Fine Arts course and it focuses on design studies, critical thinking, and overall development of the creative minds of the students. Students learn how to convert concepts into solid expressions. By using color, drawing, space, structure, composition and by implementing the use of tools and media altogether.
UPES is one of the most lavish institutes in Dehradun. Their top-notch campus provides all the facilities students need for the growth of their critical thinking. UPES program is innovative. Their world-class faculty is future-focused and motivates their students to take creative risks to become professional experts. UPES offers scholarship programs. It is ranked as one of the best colleges in Dehradun. They provide academic excellence with the assurance of a proper internship program as well as placement assurance.
Leave a Comment