Top BMRIT (Radiology) Colleges in Dehradun
June 2023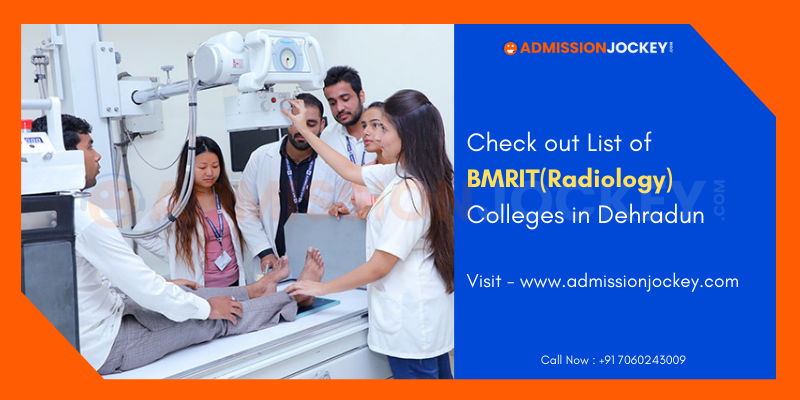 Top BMRIT (Radiology) Colleges Details
Radiology is one of the most sought-after courses in paramedical science. Bachelor's in Medical Radiology and Imaging technology is a 3 years degree course. It is basically the study of scanning and reading the internal organs using radiology machines like rays, MRI, Ultrasound, CT Scan, PACS, and QM. Every major medical complication requires the use of radiology first, that's why this course is very much in demand. In this article, we are going to look at the top BMRIT colleges in Dehradun.
One of the best paramedical institutes in Dehradun, UCBMSH is known for providing world-class education in paramedical science, especially in Radiology. They offer a 3-year BMRIT course and equip students with all the skills and latest technology in their arsenal. The whole process of radiology involves the study of internal human organs and detecting the problems with them and their hi-tech labs enable students to do it with precision and ease. They have the top-class infrastructure and a well-equipped library, hostel facilities, and every other accommodation students would require. This college is recognized by the Ministry of Health and Family Welfare and the Indian Nursing Council. Students who graduated from here get placed in the top radiology companies and best hospitals in the country.
SAI Institute of Paramedical and Allied Sciences was established in the year 2003 with the aim to deliver the best medical and paramedical science education to the students of Dehradun. It is affiliated with the HNB Garhwal University. Their faculty is known for providing a top-notch education. They offer a Bachelor's degree course in Radiology and have the latest equipment and hi-tech laboratory to support students with research work and innovation. They enroll students on the basis of merit and entrance exams. World-class infrastructure and all the facilities are available within the campus. With an affordable fee structure, SAI institute is for everyone and they have a dedicated training and placement cell that runs a recruiter orientation program to settle students in the best companies and hospitals around the country.
Read More About Pay after Placement program
Doon Institute of Medical Sciences (DIMS), Dehradun
Doon Institute of Medical Sciences was established in 2013 and is one of the best paramedical colleges in Dehradun. Their search-based commitment to learning and teaching is very commendable. They are approved by the HNB Medical Education University and the Indian Nursing Council and many other associations. They offer a 3 year Bachelor's course in Radiology and Imaging technology. Their fees are reasonable and they also run few scholarship programs. They provide many facilities within campus like boys and girls hostel, fully-equipped library, medical facilities, cafeteria and much more. They provide up to 100% placement assistance to the students through their internship programs in famous organizations and hospitals. DIMS is one of the best colleges to pursue a Radiology course in Dehradun.
Swami Rama Himalayan University, Dehradun
SRHU is a very famous and widely known university in Dehradun and it was established with the mission to introduce the superior education and technologies of medical and paramedical science to the students of Uttarakhand. Since its establishment, it has made an impact in providing high-quality education and train professionals who are working at the best posts all around the country. SRHU is approved by the UGC (University Grant Commission). They also offer an undergraduate course in BMRIT and their fees are very less given the reputation of this college. The faculty here focuses on the overall development of the students by making them participate in many seminars and other cultural events. They have all the facilities within the campus that the students would require and have a dedicated placement cell working day and night to bring in the best companies and organizations to the college and putting students into the best places where they receive the best salary packages.
Quantum University in Roorkee, Uttarakhand has earned the status of one of the most prestigious universities in Uttarakhand and North India. It was established in the year 2008 and is widely regarded as the college with the best placement. They offer bachelor's radiology courses and have high-quality and modernized machines and equipment to work with. Students will learn what's latest in their respective fields. They also offer all the facilities within campus only including workshops, libraries, hostels for boys and girls, high-speed internet, and unparalleled infrastructure. This university is approved by the Government of Uttarakhand and UGC. Their dedicated placement cell is responsible for putting many graduated students into the best ranks and positions all over the country. Their fees vary according to the type of course and they offer scholarships too. One of the best radiology colleges in Uttarakhand.
Leave a Comment