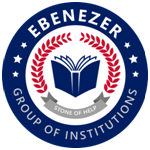 Ebenezer Group of Institutions Bangalore
Type - Private
Apporved by: AICTE
Ebenezer Nagar No. 19, 1st Main road,, Kothnur, Karnataka 560077
College Information
Ebenezer Group of Institutions, Bengaluru
Bangalore's Ebenezer Group of Institutions is a pioneering educational institution with a two-decade track record of providing excellent education. The goal is to promote experience learning through quality undergraduate and postgraduate training in many sectors such as commerce, science, aviation, and pharmacy. Admission to these courses is based on a student's performance in previous qualifying exams. The institute focuses on students' overall development. Along with academics, an individual's spiritual, bodily, and emotional well-being are critical. The college has prepared facilities for such development, including technologically enhanced learning environments and beautiful green settings that will assist students work, study, and relax. The institutions are outfitted with the most cutting-edge technologies and infrastructure for enhancing one's abilities. The Ebenezer Group of Institutions is based in Bangalore, and it welcomes people of all ethnicities, cultures, languages, and walks of life.
The goal is to develop intellectually adept and groomed professionals capable of competing on a global scale. Our institution has devised courses that meet national and international regulations in order to make the world a stage for you.
Vision and Mission:
Ebenezer aspires to be a leader in the development of socially responsible leaders and to expand the horizons of our graduates.
To be able to withstand amazing examination findings on a regular basis.
To meet exceptional placement and nascent businesses.
Leverage the consortium of institutions' cutting-edge brand values and equity.
Ebenezer's primary magnetism ensures that our stakeholders are completely satisfied.
Ebenezer Group of Institutions Courses:
| | | |
| --- | --- | --- |
| Course | Specialization | Eligibility |
| BBA | General, Aviation, Logistics | 10+2 from a recognized board |
| BBA Add On | Aviation & Airline Management, Logistics & Port Management, Coding & App Development | 10+2 from a recognized board |
| B.Com | General, Advance | 10+2 from a recognized board |
| B.Com Add On | Aviation & Airline Management, Logistics & Port Management, Coding & App Development | 10+2 from a recognized board |
| BCA | General, Advance | 10+2 from a recognized board |
| BCA Add On | Aviation & Airline Management, Logistics & Port Management, Coding & App Development | 10+2 from a recognized board |
| B.Sc | International Nursing | 10+2 from a recognized board |
| B.Pharm | - | 10+2 from a recognized board |
| GNM | Critical Care | 10+2 from a recognized board |
| M.Sc | Nursing | Graduate from a recognized university |
| P.B.B.Sc | Nursing | Graduate from a recognized university |
| Diploma | Medical Laboratory Technology, Medical Record Technology, X-Ray Technology, Health Inspector, Operation Theatre Technology, Pharmacy | SSLC or 10+2 |
Admission Process of Ebenezer Group of Institutions:
The rank obtained through an online remote proctored examination determines who is chosen.
On the basis of their ranking, selected individuals will be contacted for online counselling.
During the counselling process, eligible candidates might choose a specific campus and programme.
Classes will be performed online / reporting in person to the Institution after full payment of tuition.
On joining, candidates are expected to demonstrate their sincerity.
How to Apply:
Candidates should have a valid personal e-mail ID and mobile number. It should be kept active during the entire recruitment process. Registration number, password, and all other important communication will be sent on the same registered e-mail ID (please ensure that email sent to this mailbox is not redirected to your junk / spam folder).
Candidates should take utmost care to furnish the correct details while filling in the on-line application. YOU CAN EDIT THE INFORMATION BEFORE SUBMISSION OF STEP-I and STEP-II. Once the form is submitted, it cannot be edited.
The step-by-step process for submitting the application form is given below:
Step-A: Registration of Personal Details, and Contact details. Login Id and password will be sent to you through e-mail on registered e-Mail Id. Step-B: Please log out and re-log in to go to the Application Form. Click on the Click here to fill Application Form button on the top right corner. Proceed by filling up the Eligibility Details, Personal Details, Qualification Details, upload relevant documents and submit Fee online via Bill Desk (if applicable) through net banking/debit cards/credit cards/wallets
Fee once paid will not be refunded in any case, neither shall be held reserved for any other recruitment nor selection process in future.
Ebenezer Group of Institutions Facilities:
Hostel- Both boys and girls can stay in the hostel, which has vegetarian and non-vegetarian cuisine options. There are single and double rooms available. Inverter and solar water heater facilities are available in hostels, as well as dedicated sports and hostel-specific activities.
Chapel and Prayer Hall- Recognizing the importance of prayer and spirituality, our chapel and prayer hall provide this for our students. Prayer Hall serves as the community's centre of worship, helping to meet students' spiritual needs.
IT and Commerce Labs- More research, more insights, and more progress are the driving forces behind our IT and Commerce labs. Breaking boundaries is the goal of our IT & Commerce laboratories, which serve as a venue to move beyond textbooks and classroom learnings. On campus, the college has a number of IT and Commerce labs. Students will receive one-on-one assistance, as well as assistance with campus logins and information retrieval, from friendly and professional staff members.
Library- The college library plays an important role in our teaching-learning process. All of our deserving and motivated students on campus can benefit from the self-education materials available in our library. Our library is well-organized, with research tools, books, magazines, and documented theses, among other things.
Sports Utilities- A basketball court, a badminton court, TT tables, a football field and much more - clearly, we are certain of sport and the values it builds. The facilities in the campus include VolleyBall and BasketBall courts and Indoor games like Carroms, Chess and Table Tennis.
Medical Lab and Clinical- The labs are designed to provide an immersive learning experience with ambience and equipment that look and feel real to provide real-world hands-on experience. Hospital-like environment is created which helps students in decision-making and clinical skills.
Seminar Halls- Ebenezer Group of Institutions provides large seminar halls with a captivating ambience, different from the usual classroom atmosphere for presentations, guest lectures and seminars. State-of-the-art, spacious and student-friendly, our seminar halls are ideal for meetings, presentations and group discussions.
WiFi Enabled Campus- Ebenezer Group of Institutions Studies is entirely Wi-Fi enabled - stay connected in campus for as long as you desire. BCMS offers a free on-campus Wi-Fi service to students and staff. Our wireless network extends across all campus so you can stay connected.
Outdoor Training Facility- Whether you want to get in shape, reduce stress or just hang out with your friends, the Fitness Center can help you meet your personal goals. Physical challenges shape up a student not only physically, but mentally too. Accomplishing this, our outdoor training facility is targeted at bringing out the best in every student - both physically and mentally.
Ebenezer Group of Institutions Placement:
The institute goes above and beyond current circumstances to ensure that students are globally competitive and have a positive impact in the future. The institute has a dedicated team that works towards placing the students in the best of openings, offering opportunities that will lead them to ultimate success.
What does the Ebenezer Group of Institutions provide?
Global competitiveness preparation
Maintaining a welcoming and inclusive environment - promoting and recognising student accomplishments
Committing to the use of cutting-edge technology and innovative teaching methods.
Ebenezer Institution provides students with appropriate training to ensure that they are placed for the rest of their lives. With an intensive training curriculum devised by industry professionals, the institute ensures placement. Training will be just as vital as a topic class in a student's schedule. Ebenezer Group of Institutions' training and placement division serves as a link between industry and students. It allows students to investigate current employment opportunities and career paths. It also hosts pre-placement activities such as mock interviews, seminars, conferences, and expert speeches to help students gain confidence. Throughout the year, rigorous training activities are arranged to prepare students for the final placement drive.
Brizo, Muthoot Finance, Nestaway, Landmark Insurance, DHFL, Firstsource, NewAgeSys Solutions, IMR Softech, Columbia Asia Hospitals, Cafe Coffee Day, Axis Logistics and Packers, and others are among the college's recruiting partners.
College Image Gallery